Here are the best free noise gate VST plugins to control audio levels and reduce noise in your audio recordings.
Noise Gates are a form of compressor that focuses on the noise of the signal, instead of the signal itself. They're mainly used to silence background noise, like hissing or crackling, by restricting sound waves that are too loud.
Noise gates are usually used when you want to reduce or eliminate background noise in an audio recording like a live performance or interview.
A Noise Gate VST Plugin lets you control how much sound gets through. You can use it to silence background noise, like hissing and crackling by restricting sound waves that are too loud.
Related: Best Free Compressor VST Plugins
Best Free Noise Gate VST Plugins
Instructions: Click the images below to visit each noise gate VST plugin.
1. DD Gate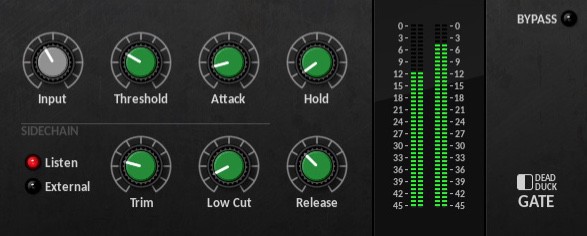 The DD Gate plugin is a noise gate VST with sidechain control.
---
2. Analog Rack Noise Gate
The Analog Rack Noise Gate plugin is a very powerful noise gate plugin ideal for guitars and basses.
---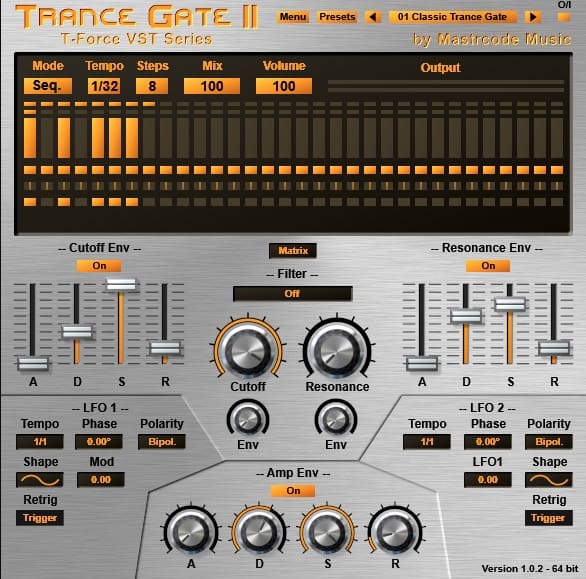 3. T-Force Trance Gate 2
The T-Force Trance Gate 2 is an envelope-controlled rhythmic gate effect that chops up incoming audio signals like pads into rhythmic sequences.
The sidechain mode allows for use of the unit in the "classical" way, where an external audio signal is used as the sidechain input.
Trance Gate 2 is also equipped with a multimode filter. Effects are controlled by amp envelopes and filter/resonance envelopes.
With all this functionality, you can even transform your favorite pad sounds into arp-style sequences.
32 Step step sequencer
13 Filter types
2 trigger modes
Sidechain mode
2 LFO's
Mod Matrix
Bypass mode
---
4. Cymbal Killer
Drummers can use Cymbal Killer as a 2-band gate.
The two bands allow you to set separate envelopes for sustain (low frequencies) and attack (high frequencies).
A short attack allows the sustain to breathe while killing the cymbal bleed entering through the close mics on a drumset (hence the name).
For focusing the sound of the drum on the detector circuit, it has a side-chain input and high-pass, low-pass, and parametric filters (shared by both bands).
---
5. BLOCKFISH
The BLOCKFISH vst plugin can be used for various purposes such as eliminating feedback or noise in recordings, or removing specific frequencies of sound so that they do not interfere with other sounds in the mix.
The front plate can be removed and the circuit board can be adjusted.
---
6. RENEGATE
RENEGATE is a full-band Gate plug-in that has a smooth natural sound that is easy to operate.
RENEGATE is perfect for studio or home recording environments, with enough control for more advanced sound engineers.
---
7. G8 Gate Plugin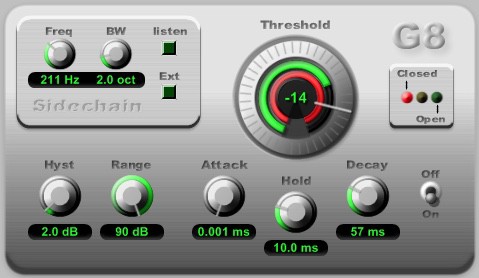 The G8 Gate Plugin is a noise gate VST plugin that features an adjustable release time and threshold to determine when to start opening up the gate.
For each of the attack and decay parameters, you can control how long it takes for the gate to transition between fully closed and fully open.
During the Hold stage, if needed, the gate will remain open to ensure that the attack smoothing will not cause the gate to close.
A slower attack time allows drum sounds to be softened.
Metering integrated into the large threshold knob
A range control can be used to set how much gain reduction to apply.
Fast and accurate envelopes
Sidechain high and low pass filters
Sidechain inputs from external sources
---
8. GVST GGate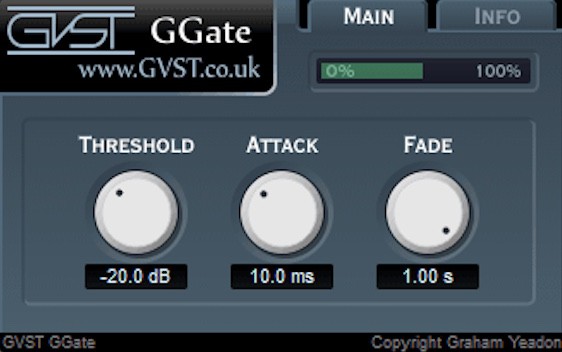 GGate is a noise gate that silences incoming signals once they drop below a threshold.
A tool like this can be useful when "silent" passages of source material contain background noise, such as the hum of an amplifier or effects-chain artifacts.
GGate detects when it receives an amplitude boost in the main portion of the source audio, so it knows when to let the signal pass through when it hears the main portion of the source audio is louder than the background noise.
A gate effect is used to silence audio below a set threshold.
It can be adjusted to focus on staccato chops or a gentle fade.
---
9. FLOORFISH
The FLOORFISH expander/gate provides a range of effects, ranging from slight expansion to background noise attenuation to extreme gate effects.
The difference from similar units is that the transition curve can be adjusted based on the scan of the source.
---
10. Bob Perry Gate
Bob Perry Gates has side chains and a choice of three different algorithms.
Three different algorithms.
Sidechaining in real-time is optional.
Graphical user interface that is easy to use.
Metering for Gain Reduction.
Numerical Data Input.
Both 32- and 64-bit versions of VST3 are available.
Hold, attack, and release 1ms to 500ms.
Algorithms linear, logarithmic, and s-curve.
---
11. ReaGate
The ReaGate VST plugin is an advanced gate processor
Customizable
Filters and inputs for sidechains
Hold control
Send MIDI events
Wet & dry mix
---
12. StormGate1
StormGate1 is a rhythmical gate that shapes audio by changing its amplitude.
It is possible to draw patterns by hand or with the aid of powerful drawing tools.
In just a few seconds, you can turn a static pad into an exciting rhythmic part, create new rhythms from vocals, instruments, sounds of any kind.
Simulating the sidechaining of a compressor is also possible.
---
More Noise Gate Plugins (7)
---
FAQs
What is a Noise Gate Plugin?
A Noise Gate plugin is a VST plugin that is used with audio mixing. This plugin is an extremely effective way to reduce the noise level in your recordings.
Noise gates are also called noise reduction software. It works by setting a dB threshold which if exceeded will open the gate and let through any sound above the threshold. When the signal falls below the threshold, the gate will close again and cut off any sound that falls below its set dB level.
---
We hope you find these noise gate VST plugins helpful.
If we missed any noise gate VST plugins, please let us know in the comments.