Here are the best Free Bass VST Plugins online that can be used with Reason, FL Studio, Ableton Live, and other music software.
Tutorial: How to Install VST Plugins
The Best Free Bass VST Plugins
Instructions: Click each link below and look around each website for the download link or button. Do not install any suspicious software.
1. Ample Bass P Lite II
Ample Bass P Lite II aims to bring the Fender Precision Bass sound to your studio.
The Ample Bass VST plugin is an electric bass vst plugin great for some groovier and more rock-centric bass sounds
OS: Windows / Mac
---
2. Synister
Modulation made easy.
OS: Windows / Mac
---
3. Steinberg Model E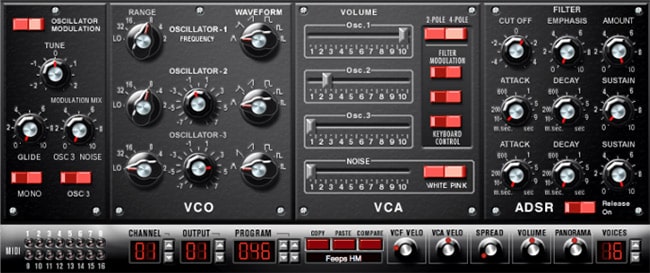 Model E is a classic analog synth with ultra-low CPU load.
3 Oscillators & Noise generator.
6 Waveforms per oscillator.
2 Envelope generators.
2 & 4-pole LPFs.
Filter modulation & key tracking.
Glide.
Mono mode.
Assignable velocity routing.
Stereo spread and Pan controls.
16 part multi-timbral.
64 voice polyphonic.
128 memories.
OS: Windows / Mac
---
---
4. Sforzando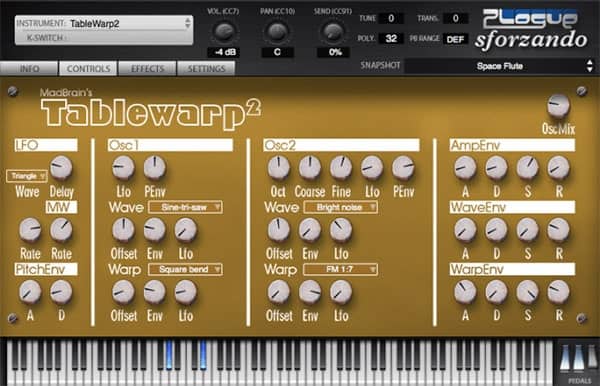 Superb mid-low range basses are perfect for beefing up your tracks.
OS: Windows / Mac
---
5. Sinnah
Sinnah is a synth based on a single complex oscillator that includes five waveshapes with increasing spectral complexity, harmonics level for all waveshapes, noise level, and a delay matrix.
GUI has been vastly improved, especially for Mac compatibility.
Noise and Harmonics controls can be linked, and act as a single parameter.
LFO with several selectable targets, 9 waveshapes, and delay (fade in).
MIDI controls ModWheel and Aftertouch with several selectable targets.
Sustain pedal sensitivity.
Pitch bend range adjustable up to 48 semitones, -24 to +24.
Key tracking assignable to Harmonics and ADSR envelope level.
Reduced CPU load, DSP optimization.
"Inits" category with various initialize presets.
Unlimited custom color schemes using theme files.
More detailed HTML manual.
Reached 152 factory presets.
Bug report log.
Fixed the click that happened to play in Mono legato over a previously released note.
Fixed ADSR repeat 2 and 3 that weren't working.
Fixed incorrect behavior of the box slider GUI controls.
OS: Windows / Mac
---
6. TAL–Bassline
TAL-BassLine is a virtual analog bass vst synthesizer especially made for bass, acid sounds, and effects. It's based on a robust core and has the usual controls of analog hardware synthesizers.
A unique -18dB low pass filter with a lot of asymmetric and random components introduces a warm and analog sound. Very fast, nonlinear envelopes are also a part of this synth.
Bandlimited oscillators (saw, pulse).
Sub-oscillator: square -1 oct., square -2 oct., pulse -1 oct, pulse -2 oct.
-18 dB/octave low-pass filter (resonant/self-oscillating).
LFO (frequency: 0,1 .. 30 Hz, waveforms: sin, tri, saw, rec, noise).
Very fast nonlinear envelope (A: 1.5ms..4s, D: 2ms..10s, S: 0..100%, R: 2ms..10s).
Simple Arpeggiator (up, down, one-octave mode).
2x Unisono Mode.
Panic button.
MIDI automation for all sliders and pots.
Precise fader control while holding down the "Shift" button.
Supports all sample rates.
2x oversampling.
23 presets.
OS: Windows / Mac
---
7. TAL–Elek7ro
TAL-Elek7ro is a virtual analog synth with some special features like oscillator hard sync and frequency modulation.
Including improved alias-free oscillators, newly developed fast envelopes, and LFO's with a wide range from 0.1Hz up to 400 Hz. A free routable envelope with attack and decay is available too. This synth is useful for a wide range of sounds from percussion to deep bass sounds.
2 oscillators with hard sync, PW and FM (saw, pulse, triangle, sine).
1 sub oscillator (saw, rectangle).
1 noise oscillator.
18dB or 12dB non linear analog modelled low pass resonance filter.
Mono mode, including portamento.
Poly mode, up to 6 voices (not cpu optimized for poly mode).
2 free routable Lfo's (0.1Hz – 400Hz, sine, triangle, saw, rectangle, s&h, noise).
Filter and amplifier ADSR-envelope.
Free routable AD-envelope.
Mod-wheel and Pitch-Wheel support.
Midi Learn for all pots.
Velocity to filter contour intensity.
Panic button.
OS: Windows / Mac
---
8. Tyrell N6
In cooperation with the readers, the freeware Synth Tyrell N6 was created. Thanks to careful product care, this plug-in is far from over the age. 
On the one hand, the sound library of the TYRELL N6 is getting more and more extensive, on the other hand, U-He has just released the 3.0 version with revision 3898 of the TYRELL N6.
OS: Windows / Mac
---
9. FreeAlpha
FreeAlpha is the small brother of Alpha, sharing the same engine but having fewer features. It's been around since mid-2000 and is free of charge.
It comes with a couple of presets to get you started and the manual of the full Alpha which covers FreeAlpha too.
OS: Windows / Mac
---
10. JuceOPLVSTi
The OPL2 is a simple 2-operator digital FM sound chip from the late 80s, used in PC sound cards like the Adlib and original Sound Blaster.
This VST instrument allows you to program an emulated OPL2 chip.
OS: Windows / Mac
We hope you enjoy these free Bass VST plugins.
Please share this article and check out more Free VST Plugins.