Check out the best Free Chorus VST Plugins online that can be used with FL Studio, Reason, Ableton Live, and other VST supported software.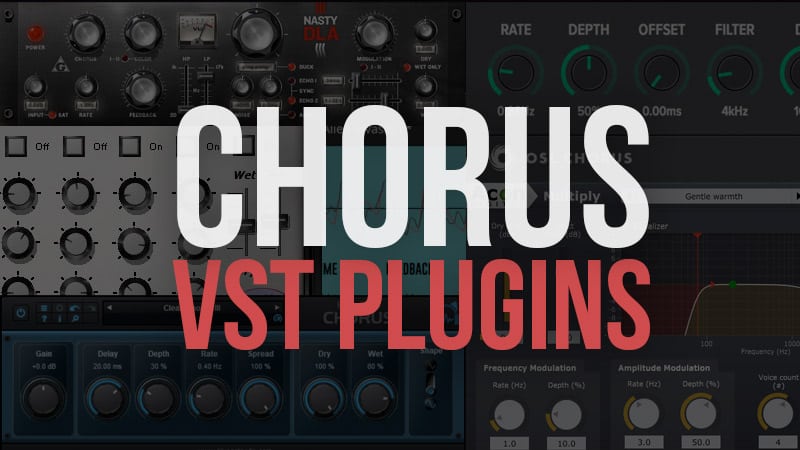 Instructions: Click each link below and look around the websites for the download or button. Do not install any suspicious software.
Tutorial: How to Install VST Plugins
The Best Free Chorus VST Plugins
1. Blue Cat's Chorus Plugin
From a light ensemble to a deep destructive modulation effect, Blue Cat's Chorus can just do anything.
Single voice vintage chorus effect
Stereo spread control
Sine or triangle LFO shapes
In or out of phase mix control
OS: Windows, Mac
---
2. Acon Audio Multiply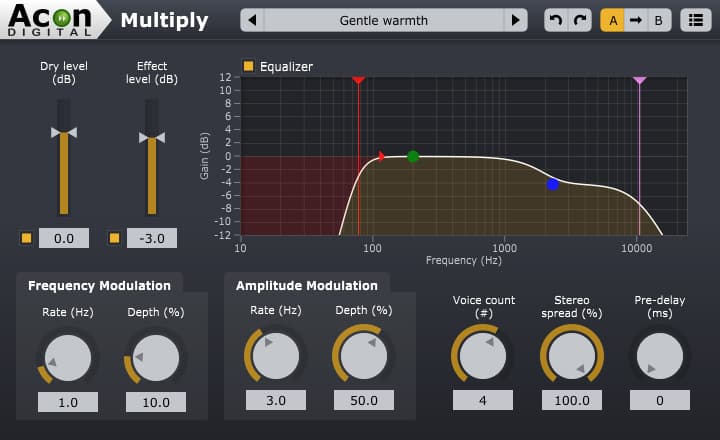 Acon Digital Multiply is a free and versatile chorus effect with a unique twist. Each simulated voice is processed with a phase randomizing filter so that unpleasant comb filter effects are avoided.
The effect can be used to simulate the effect of several performers playing the same tones simultaneously, to widen the spatial image, or to create special effects for sound design.
OS: Windows / Mac
---
3. Tal-Chorus-LX
TAL-Chorus-LX is a standalone version of the chorus implemented in TAL-U-NO-LX.
Characteristics of the Juno-60 chorus.
2 different modes.
Dry/Wet control.
Volume knob.
Only stereo channels supported.
OS: Windows / Mac
---
---
4. Variety of Sound NastyDLA
NastyDLA is a classic chorus echo device with a tape-delay simulation.
Classic chorus and echo effects
Authentic signal path coloration
Tape-delay style feedback and saturation
OS: Windows
---
5. Kjaerhus Audio Classic Chorus
Classic Chorus by Kjaerhus Audio is a natural and clear-sounding chorus VST plugin. It features delay times ranging from 1.25ms to 320 ms and stereo spread with modulation depth and rate.
The Classic Chorus audio plugin supports sampling rates up to 96kHz and is great for adding depth, phatness, and stereo perspective to almost any sound signal.
OS: Windows
---
6. OSL Chorus Plugin
OSL Chorus is modeled after the Juno 60's onboard chorus. It produces rich, wide choruses that are perfect for bringing dry synthesizers to life, but it sounds equally good on guitar, bass, and other instruments.
Adjustable LFO rate and depth
Adjustable delay offset
Low pass filter to control the chorus brightness
Separate dry and wet controls for precise mix levels
OS: Windows / Mac
---
7. Chorus CH-2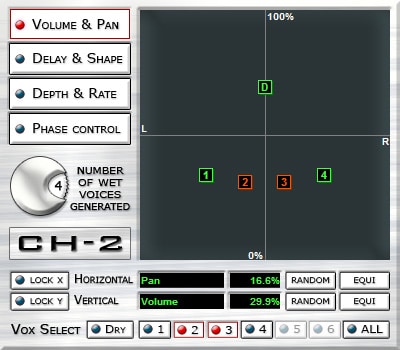 A chorus effect with a high-quality modulation engine with an original graphical interface.  Based on the all-pass interpolation algorithm described in the research paper "Effect Design" by Jon Datorro.
Chorus CH-2 supports full automation reading/writing.
You have always full control of the stereo chorus width.
Parameter changes are interpolated for smooth and click-free editing.
Changing the LFO shape resets the oscillator: this way you are able to sync the effect using automation.
OS: Windows
---
8. Acrobatics Vento

A high-structured 4 voices chorus/ensemble treats every voice with different harmonic modulation and includes an additional tremolo section giving further shine and sculpting possibilities using the same voicing architecture.
OS: Windows
---
9. UKM Chorus Effect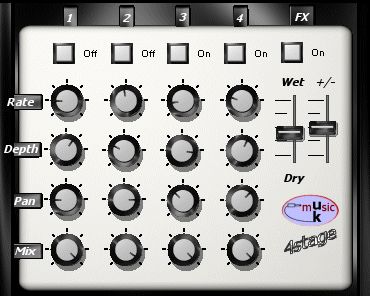 The Ukm Chorus 2 VST plugin by uk-music is a 4-stage chorus effect. The parameters of each stage can be adjusted separately and unused stages can be disabled to reduce CPU consumption in the audio sequencer.
The stages of the Ukm Chorus 2 VST differ only in the basic delay adjustment ranging from 10ms to 50ms. A great sounding and very versatile chorus vst plugin.
OS: Windows
---
10. Imaginando DLYM
DLYM is a free 'Delay Modulator' plugin that produces flanger and chorus style effects using Imaginando's powerful processing technology.
2 processing modes – 'Analog emulation' and 'Dimension style'.
6 time syncable modulation waveforms – Sine, Square, Saw, Triangle, Sample & Hold and Filtered Sample & Hold.
Adjustable stereo chorus spread.
Crossover/cutoff to control frequency range of the effect.
OS: Windows / Mac
---
I hope you enjoy these free Chorus VST plugins.
Please share this article and check out more Free VST Plugins.