Here are the best Free Drum Machine VST Plugins online that can be used with FL Studio, Reason, Ableton Live, and other VST supported software.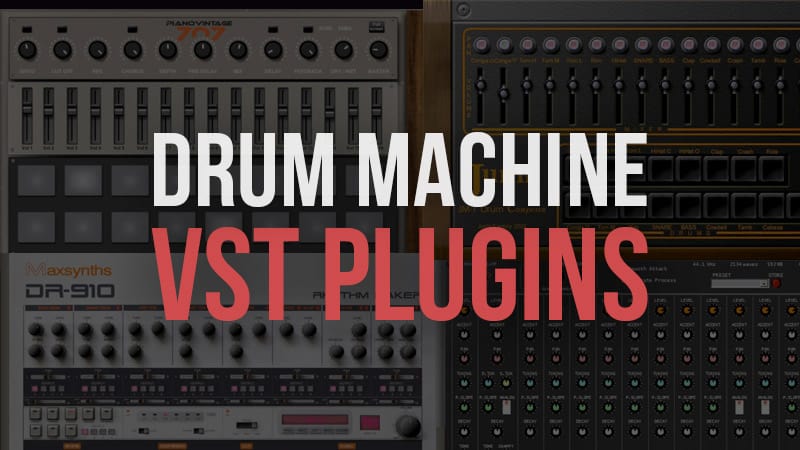 Instructions: Look around each website for the download link or button by clicking on each of the links below. Do not install any suspicious software.
Tutorial: How to Install VST Plugins
Best Free Drum Machine VST Plugins
1. Roland TR707 Drum Machine
707 is a 16 samples drum kit recorded from the Roland TR707 virtual drum machine.
LP filter
Distortion
Chorus
Synch delay
OS: Windows
---
2. DR-910 VST Plugin
The DR-910 emulates the Roland TR-909 drum machine.
The TR-909, which has been used by artists such as Moby, Fatboy Slim, The Prodigy, Jean Michel Jarre, The Chemical Brothers, Faithless, and many others, has rapidly become one of the most iconic pieces of equipment in the electronic musician's arsenal.
Each sound segment: bass drum, snare drum, etc, has been developed to sound and function as close to the original instrument as possible.
A reverb unit with separate send controls for each sound source, a compressor tailored to work with drum sounds, and a Lo-Fi FX processor are among the extra features not included in the hardware version.
These extra features would enable the user to easily form the sound without the need for external plugins.
If you need to add external effects to the signal, each drum kit can be routed to four different stereo outputs that can be processed separately in the DAW.
The original sound has been faithfully recreated.
There are four stereo outputs.
For each instrument, there are mute and pan choices.
Every instrument has its own send level to the built-in reverb unit.
IDP circuit and a built-in compressor.
Integrated rever-vst-instruments
b unit routable to outputs 1-4 b unit routable to outputs 1-4 b unit routable to
Three independent modes for Lo-Fi FX.
MIDI CC# provides full MIDI support.
Custom prototype for the Behringer BCR-2000.
It's easy to use.
CPU usage is minimal.
OS: Windows
---
---
3. JM-1
This is a VST version of the Linn drum machine.
This musical instrument was created in order for the author to get rid of the "Linn Drum Computer's" inferiority complex.
OS: Windows
---
4. T-Rex 606
The T-Rex 606 is a rompler made from a Roland TR-606 drum machine VST.
77 Samples included in this drum kit
Master volume.
Reverb.
OS: Windows / Mac
---
5. Tromine GT Drum Plugin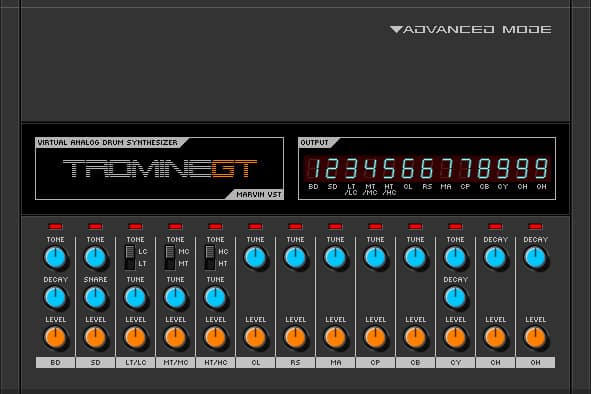 The Tromine GT drum vst plugin is a TR-808-style analog drum synth.
16 Analog drum synthesizers: Bass drum, Snare drum, tom, conga, Claves, Rimshot, Maracas, Handclap, Cowbell, Crash cymbal, Closed hi-hat, Open hi-hat.
9 outputs.
MIDI CC support.
Automation support.
OS: Windows
---
6. VR-08 Free
The Roland TR-808 emulation VR-08 free is free to download.
This VSTi is made up of 2,134 samples sampled at 44.1 kHz from an old drum synthesizer.
The parameters were created to take advantage of this massive library and to get as close to the TR-808's original sound as possible.
OS: Windows
---
7. Kicker Drum Plugin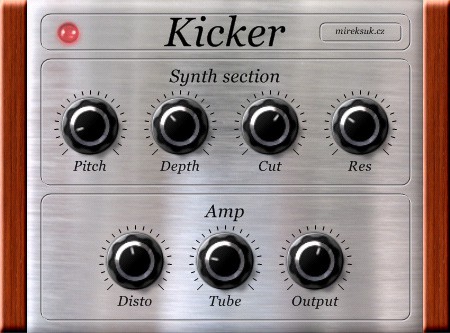 Kicker is a bass drum synth.
OS: Windows
---
8. Easy-Drum o4 SE 909
The Easy-drum o4 SE 909 vst plugin is a TR-909 Emulation with 32 patches.
4 Slot Drum box with 909/808-Samples
32 Patches
OS: Windows
---
9. Transistor Drums 2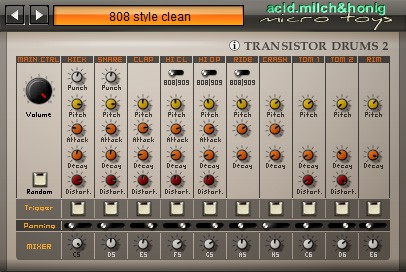 Transistor Drums is a drum machine in the style of 808 and 909.
It employs a variety of sound generation techniques: the kick drum VST plugin is analog-style, the snare drum is hybrid analog-style/sampling, the clap is granular sampled, and the rest of the drums are sample-based.
Not only does velocity affect volume, but it also has an effect on the context EQ, analog parameters, and (to a lesser extent) the envelope.
A micro tuning random generator is also included, which produces a small difference in pitch, as well as other parameters, for each drum beat, resulting in a more sensitive pseudo-realistic tone. To aid in a creative crisis, a fixed random button is included.
OS: Windows
---
10. SD 2100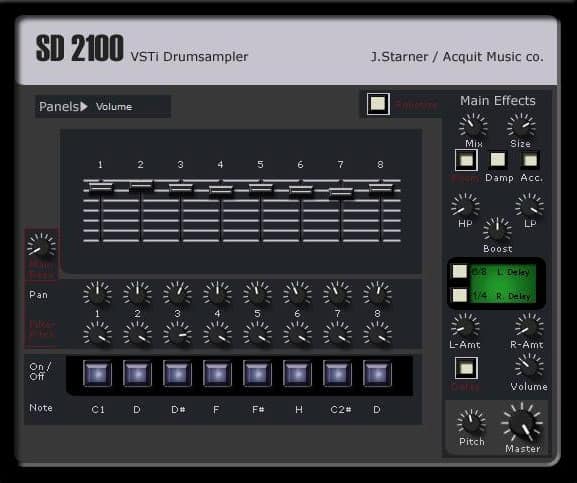 SD 2100 is an emulation of the famous Emu SP 1200 Beatbox.
OS: Windows
---
11. Rhythmus
Rhythmus is a rhythm machine from the past.
An old rhythm machine influenced Rhythmus. There are ten keys, each of which can play two different rhythm parts, resulting in approximately 20 different rhythmic loops, such as samba, mambo, tango, waltz, and rumba.
You can adjust the tune, speed, and pan of each rhythm part, such as the snare, bongo, cowbell, and hi-hat when you click open.
These rhythmic parts can be combined with Tambourine, Guiro, and Quijada sounds.
20 loops (samba, tango, waltz )
Tune, pan, and volume for each element
OS: Windows
---
12. reTromine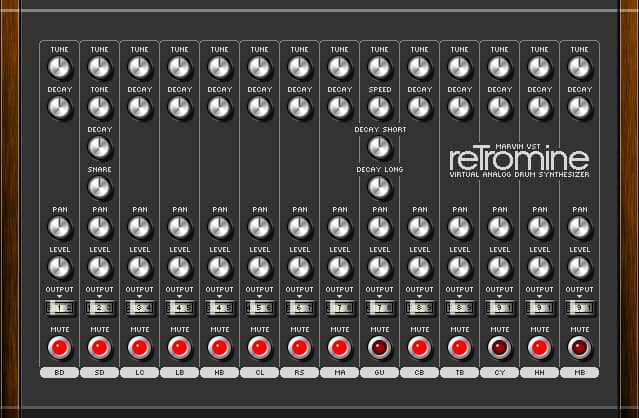 reTromine is a virtual analog synthesizer in the Roland CR-78 style, with 15 drum sounds.
9 Outputs
MIDI CC support
Automation support
OS: Windows
---
13. TS-808
The Roland TR-808 is emulated in software with the TS-808. Every voice is completely schematic in the TR-808 service notes. I used them to simulate the circuits in SPICE.
The majority of the voices have more parameters and variety than their hardware counterparts.
OS: Windows
---
14. Boxxy D

Boxxy D reproduces the sound of a Mississippi drum machine. This plug-in often simulates bass drum instruments, which can be used in a variety of musical genres, including Dubstep Music.
Bass and Treble EQ controls
Stomp EQ controls EQ via velocity
ADSR envelop
Style switch
Octave switch
OS: Windows
---
We hope you enjoy these free virtual Drum Machine VST plugins.
Please share this article and download more free VST Plugins.