Here are the Best Free Guitar Amp VST Plugins online that can be used with FL Studio, Reason, Ableton Live, and other VST supported software.
Tutorial: How to Install VST Plugins
Instructions: Click each link below and look around each website for the download link or button. Do not install any suspicious software.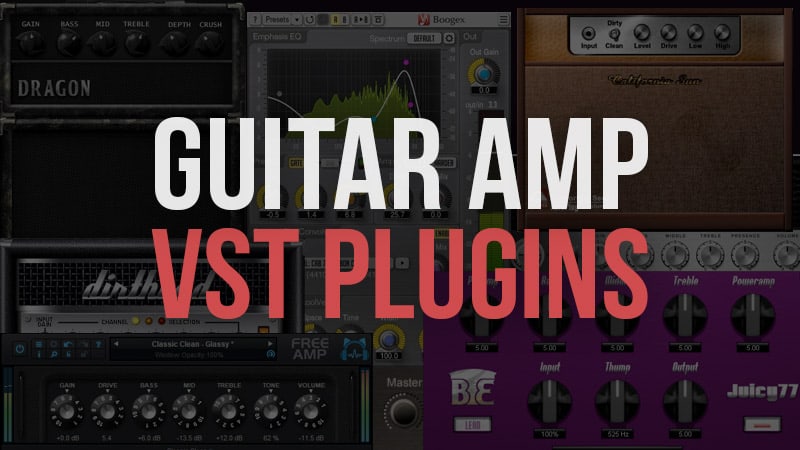 Best Free Guitar Amp VST Plugins
1. Amplifikation Lite

Amplifikation Lite allows you to create ultra-realistic sounding guitar sounds simply by plugging your guitar into your computer's sound card input.
Get high-quality guitar tracks with a simple interface and non-obstructive workflow using Amplifikation Lite.
Amplifikation Lite's DSP engine is based on one of the amps featured in Kuassa Amplifikation One with a fixed tone stack and power amp output type.
3 channels: Clean, Rhythm, Lead.
9 Parameters: Input, Channel selector, Gain, Bass, Middle, Treble, Presence, Volume
Built-in Cabinet Impulse Response Loader.
Supports sample rates of up to 96 kHz.
OS: Windows / Mac
---
2. Dirthead – Virtual Tube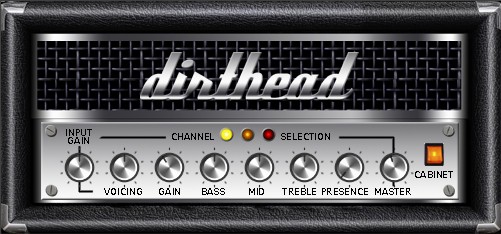 Dirthead is my latest attempt at modeling a tube guitar amp vst. It features three channels, clean, crunch, and ultra that can be activated by clicking on the yellow, orange, or red leads.
It comes with the usual controls found on guitar amplifiers and additionally a voicing knob that alters some internal power-amp parameters. Clean guitar amp VST plugin.
Dirthead is available as a freeware vst plugin for windows and can be used in every host application that supports vst plugins.
OS: Windows
---
3. Voxengo Boogex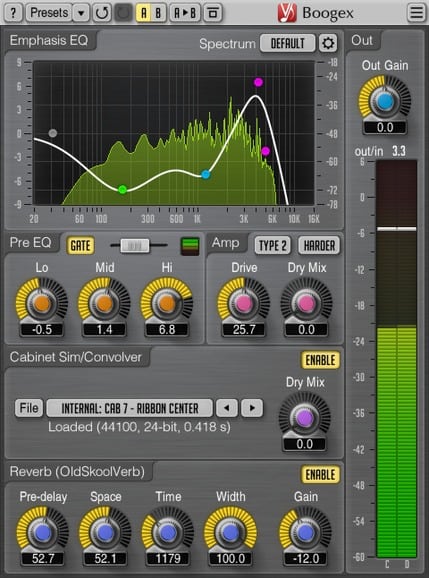 Boogex is a guitar amplifier effect AAX, AudioUnit, and VST plugin with a variety of sound shaping features for professional sound and music production applications. 
With Boogex it is possible to get a heavy distorted sound as well as a slight "jazzy" saturation sound.  Boogex is also able to apply any speaker cabinet impulse response (selection of built-in impulses is available). 
The processing latency is close to zero making it possible to use Boogex for real-time guitar processing. 
Boogex also includes input gate module, and reverberation module derived from Voxengo OldSkoolVerb reverb. Boogex produces a nice "minimalist" sound which may be a bit noisy at higher drive settings, higher frequencies can be easily suppressed with its built-in Emphasis EQ.
Emphasis EQ
10 amplifier modes
61 built-in cabinet impulse responses
Gate module
Built-in reverb
Stereo processing
64-bit floating-point processing
Preset manager
Undo/redo history
All sample rates support
Zero processing latency
User interface color schemes
Resizable user interface
OS: Windows / Mac
---
---
4. Juicy77 – Guitar Amp VST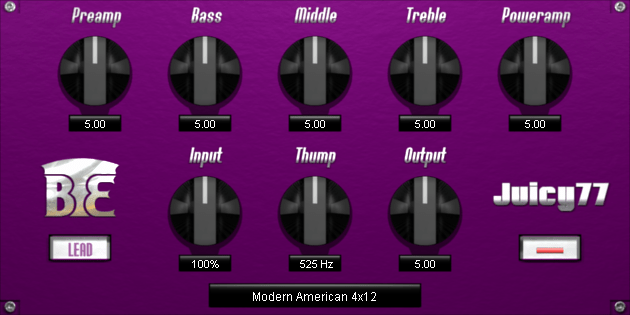 Inspired by its legendary role model which has set the industry standard for high gain amplifiers, Juicy 77 aims to become the definitive benchmark for crystal clear articulation, solid punch and singing sustain in the digital domain.
With separate pre-amplifier and power amplifier sections and a loudspeaker cabinet simulator section that includes seven classical cabinet types, Juicy77 modestly delivers instant gratification to musicians who are looking for the ultimate high gain experience.
OS: Windows
---
5. Bass Grinder Free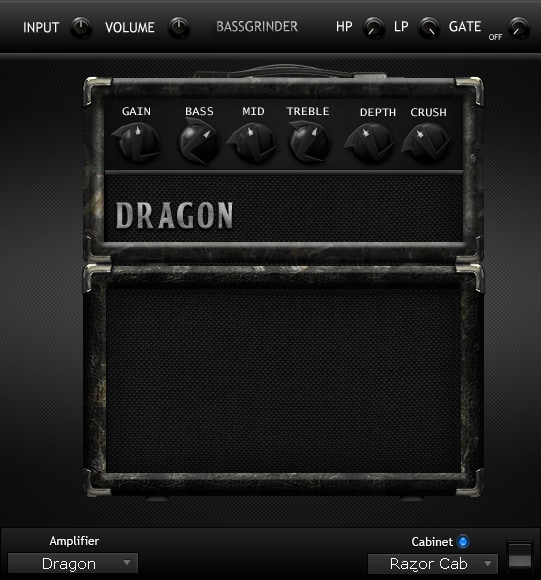 Bass Grinder Free is the ultimate metal bass machine. No need to tweak, just plug Bass Grinder into your bass guitar track and enjoy instant mix-ready tones that cut through your mix effortlessly and give you that powerful aggressive low end you were always looking for.
Bass Grinder Free keeps it simple, using any of its 2 amplifiers and 3 cabinets.
OS: Windows / Mac
---
6. Blue Cat Free Amp

Blue Cat's Free Amp is a free guitar amp simulation plug-in offering three amp models created with the acclaimed Blue Cat's Destructor amp simulation modeler.
Inspired by legendary guitar amplifiers from the real world, the included "classic clean", "classic drive" and "modern drive" amp models cover a wide range of guitar amp tones, from clean vintage sounds from the early days of electric guitar to modern high gain metal tones.
Operating the plug-in is extremely simple: load it in your favorite host application, choose a preset or an amp model, and play!
Like with a real guitar amp, you can tweak the frequency response with the included EQ and adjust the amount of drive – but watch out, it goes to 11!
3 amp models.
No latency.
Native DSP code for optimal performance.
Full MIDI control and automation support with silent, zipper-free parameters update, advanced response control, and MIDI Learn.
No CPU load on idle: when the plug-in is fed with silence, the processing smoothly shuts down, to optimize the CPU usage of your Digital Audio Workstation.
Customizable user interface with transparency management and zoom.
Smooth Bypass: activate/deactivate the plug-in with absolutely no noise.
Undo/Redo.
Full-featured integrated presets manager.
Copy/paste the state of the plug-in between instances using the system clipboard.
Any sample rate supported.
OS: Windows / Mac
---
7. California Sun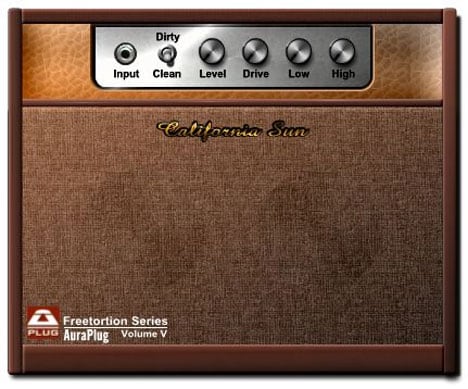 California Sun is a guitar combo.
Guitar Combo Amp design.
2 channels, Clean and Dirty.
Level, Drive, Low and High controls.
Built-in Distortion, Amp, and Cabinet Simulation.
Incredible Low-ends.
64-bit internal processing resolution.
Low CPU usage (less than 2% on P! 2.4GHz).
Easy to use.
OS: Windows / Mac
---
8. Flextron
Flextron is a virtual-analog guitar amp vst based on a concept of the hybrid guitar distortion pedal AXP built for himself.
The prototype pedal in its turn was based on two commercial tube emulation technologies – Flexwave by Crate and Cooltron by VOX.
In addition to the fully-featured 3-channel preamp and a tube saturation stage, Flextron offers a dual-mode stereo reverb (algorithmic and convolution-based), a speaker simulator with two cabinet models and an ambiance control (intended mainly for practicing in headphones), a switchable order oversampling, and a set of visualization instruments, such as an EQ curve plot and stage bias meters. Every single control is remapped to produce a linear response on a dB scale.
OS: Windows
---
9. HyBrit Head
HyBrit Head is a hybrid amp model based on two famous British gears.
The PLS channel is actually a hybrid of the two (tweaked) channels (Normal and Treble) of the real thing. Both channels are actually processed and the mix of the two signals can be adjusted through the PLS MIX knob.
The other channel, MCJ, is also a tweaked version of the real thing. So, this amp simulator doesn't represent anything specifically but it does have the character of the British amp.
OS: Windows / Mac
---
10. Knuckle Head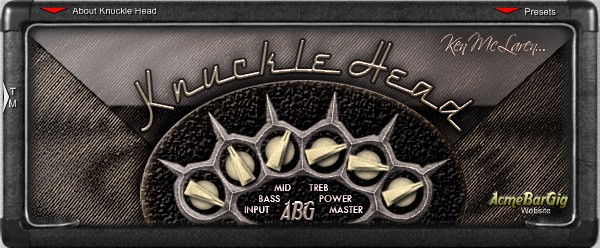 Knuckle Head is a guitar amp VST head capable of tones that range from sweet, glistening clean to SRV and Yardbirds style smokin' hot crunch right through to punishing high gain destruction. Knucklehead is the brute force amp of the collection.
His power amp is the main tone maker, it gives you a raunchy heavy distortion or a nice crunchy yardbirds type tone.
Although it is capable of all the sounds in between. I have only ever been able to get this distorted sound from a real amp and no other amp sim has ever been able to give me the raunchy sort of distorted high mid that this one does.
With mid cranked, Treble master cranked, bass 3/4, Treble off, master 1/4 everything else cranked, it will give you a superb machine gun type of fast picking while riding a string, like picking the e string really fast while palm muting.
OS: Windows / Mac
---
11. LeXTAC

LeXTAC has been inspired by a great Californian boutique amplifier.
Ch 1 (Clean/Yellow): gain, bass, middle, treble, contour, power amp gain volume, 3 positions pre eq, gain boost
Ch 2 & Ch 3 (Blue & Red): gain, bass, middle, treble, contour, power amp gain, volume, 3 positions pre eq, gain-structure, gain boost, and Plexi mode
OS: Windows / Mac
---
12. Pedals
Pedals is a VST effect plug-in for Windows, designed for processing electric guitar and bass.
It is also possible to process other audio sources for a variety of artistic techniques. For more convenience, Pedals' GUI simulates real devices for sound processing: guitar amp vst pedals, amplifiers, speakers, etc.
There are a total of 19 models of pedals, 2 amps, 7 speakers models, and 3 rack units. These devices are not a copy of the real-life models, each with its own sound, but their working principles are identical.
OS: Windows
---
13. SoftAmp FM25

SoftAmp FM25 is a virtual-analog model of the Fender Frontman 25R combo amp. The Frontman is a versatile solid-state practice amplifier for electric guitar. It's equipped with a 10″ speaker, has 2 channels that share a 3-band equalizer, and spring reverb. The current issue sports a classic "Blackface" look.
This VST model is a tribute to the original design and faithfully models all its essential features. It is mainly intended for quick and simple recording of draft tracks as well as for some live jamming whenever you don't feel like setting up a more sophisticated amp simulator.
This one runs straight out of the box, looks exactly like a guitar amp vst, and has everything you need to start playing – clean and distorted channels with speaker simulation and a reverb!
As usual, it's got all the conveniences associated with AXP plug-ins, like a stereo processing capability, high-quality anti-aliasing oversampling and switchable speaker simulation.
All controls are carefully mapped to produce linear sound pressure level changes, i.e. they are linearized in dB scale.
OS: Windows
---
14. The Anvil
The Anvil is a digital emulation of a 3 channels tube preamplifier for guitar. It has been developed to accurately model its real hardware counterpart, designed by Andy Zeugs.
The Anvil has three completely independent channels, with different signal paths and separate tone stack controls, to maximize its versatility. The Clean channel is inspired by the classic Californian circuits and provides crystal clear tones even at high gain settings.
The Rhythm channel has a hot-rodded British character, varying from mild crunch to hi-gain distortion.
The Lead channel provides super-tight metal tones, retaining accuracy and responsiveness even at very high gain settings.
Every single component on the signal path of the real analog circuit has been taking into account and modeled in the best possible way to match the original sound, keeping an eye on CPU performances and real-time playability at the same time. The Anvil is meant to be used as a Guitar Amp VST preamplifier for live playing and jamming, tracking, or mixing inside hosts capable of VST or AU Plug-Ins support.
OS: Windows / Mac
---
15. Tribe – Windows
Tribe is a clean amp / pickup simulator designed to give you pure, crystal clear clean tones, providing you with the perfect blank canvas to further sculpt your tone.
With the ability to load the impulse response file of your choice, Tribe is designed to give out a smooth stream of constant clean tone
Ability to load external pickup/acoustic guitar impulses.
Includes 24 pickup models.
Has a powerful EQ, to allow you to sculpt your tone to suit your needs.
Includes a built-in stereo imager.
OS: Windows
---
We hope you enjoy these free Guitar Amp VST plugins.
Please share this article and check out more Free VST Plugins.