Here are the best Free Mastering VST Plugins online that can be used with FL Studio, Reason, Ableton Live, and other VST supported software.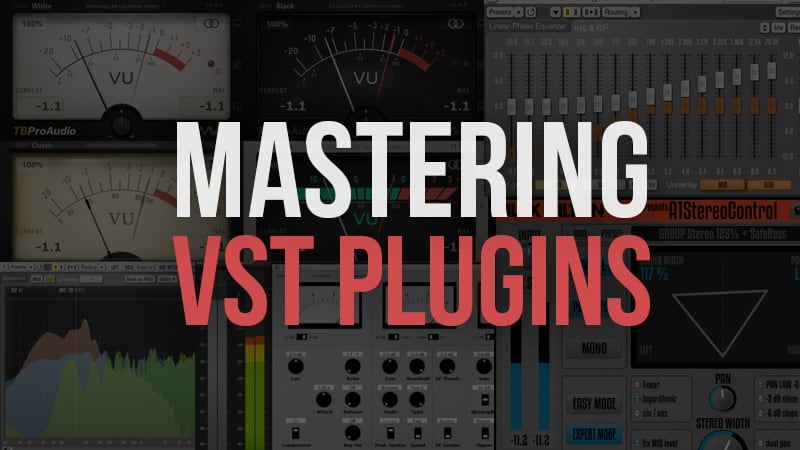 Tutorial: How to Install VST Plugins | Related: What is Mastering Music?
The Best Free Mastering VST Plugins
Instructions: Click each link below and look around each website for the download link or button. Do not install any suspicious software.
1. Span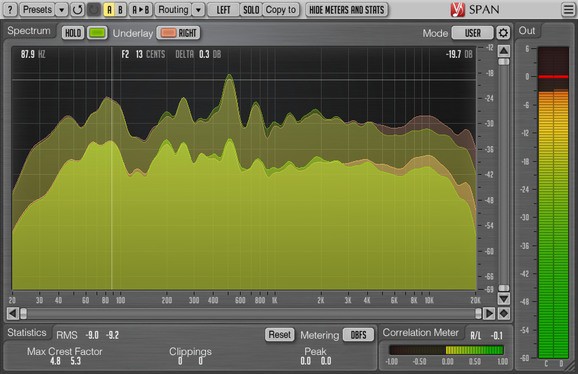 SPAN is a free real-time "fast Fourier transform" audio spectrum analyzer AAX, AudioUnit, and Mastering VST plugin for professional sound and music production applications. 
For the most part, it was derived from Voxengo GlissEQ dynamic parametric equalizer and reproduces its spectrum analysis functionality.
Fast Fourier transform spectrum analyzer
Stereo, mid-side, surround spectrum analyzer
Stereo correlation meter
K level meter
RMS, peak level and clipping detector
OS: Windows / Mac
---
2. Loudmax
LoudMax is a Look-Ahead Brickwall Loudness Maximizer Mastering Plugin with a clean transparent sound.
It is designed to retain the original character of the music as much as possible even at high compression levels.
True Peak Limiting (Further information for ISP below)
Supported Sample rates: 2kHz – 384kHz
Latency: 1.25ms (+ 6 samples with ISP)
Look-Ahead and Attack Time: 1.25ms
Release Time: Automatic – depending on the input signal
No audible distortion
Possible overdrive: 740dB
Very low CPU usage
OS: Windows / Mac
---
3. Limiter 6
This is a more complex and versatile take on limiting. It offers more control than LoudMax, which can be helpful if your program material requires detailed tweaking.
Its five modules include RMS compressor, peak limiter, high-frequency limiter, clipper, and true peak limiter.
5 modules: RMS compressor, peak limiter, high-frequency limiter, clipper, true peak limiter
High-quality signal processing to use for mastering purposes
Brickwall and soft limiting with different timing settings
M/S and multiband modes
Optional 4x oversampling
True inter-sample peaks (ISP) limiting
Analog-style indication
2 different GUIs
OS: Windows / Mac
---
---
4. MV Meter
MV Meter is a multivariable meter including RMS, EBUR128, VU, and PPM measurement.
the behavior of classic analog VU and PPM meters
multiple measurement modes: PEAK, RMS, EBU R128, VU, and PPM
multi-channel metering: stereo, left, right, mid, side-channel
large and accurate live meters
adjustable pre-gain, gain matching
64-bit internal processing
5 different meter themes
GUI resizing up 400%, ready for 4k displays
OS: Windows
---
5. Stereo Tool V3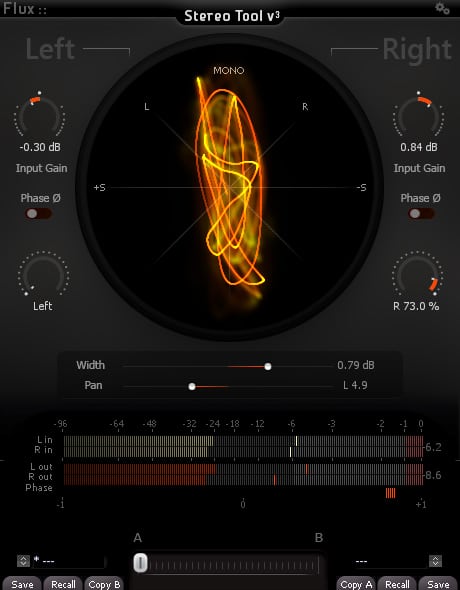 StereoTool offers ultra-precise control of input gain and individual pan for left and right channels, accurate visual feedback reflecting the signal content with; a vector scope, PPM meters for inputs/outputs, phase correlation meter permanently monitoring the signal and individual left and right polarity reversal
Up to 8 channels Input/Output.
64-bits internal floating-point processing.
Sampling rate up to 384 kHz DXD (Pyramix & Ovation MassCore/Native)
Sampling rate up to 192 kHz for native (AU/VST/AAX/AAX AudioSuite).
OS: Windows / Mac
---
6. Marvel GEQ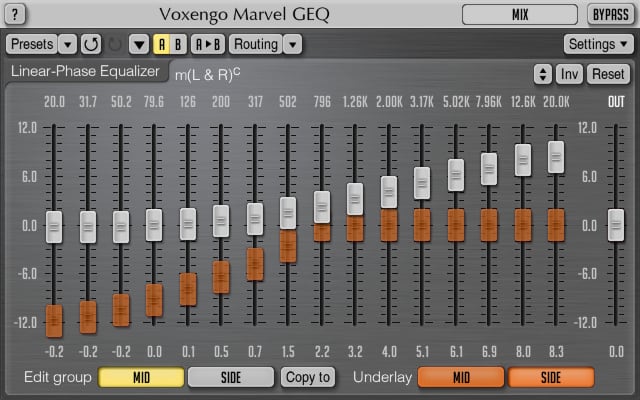 Marvel GEQ allows audio engineers and musicians to apply quick EQ shape adjustments, both to audio tracks and full mixes. 
The linear-phase filtering offered by Marvel GEQ is suitable for equalization tasks where high quality and excellent sonic character are made.
Track graphic equalizer
Voice streaming equalizer Mastering VST plugin
Mastering graphic equalizer
Stereo, mid-side, 5.1 surround equalizer
Transparent graphic equalizer
OS: Windows / Mac
---
7. A1 Stereo Control
Stereo expansion is often used in moderation during the mastering stage, though it can also be employed on individual tracks when mixing.
The idea is to give your tracks more width and make them sound more expansive.
One problem can be widening the bass end, as the bass should remain centered to retain focus and power.
OS: Windows / Mac
---
8. IVGI
IVGI can deliver very soft and subtle saturation, that feels at home on the master bus.
It is equally capable of very dense and dirty distortion effects to spice up single tracks.
OS: Windows / Mac
---
9. SoftClipper
ClipShifter is a wave shaping audio Mastering VST plugin that functions like a clipping-style limiter and can be used at all mixing stages, from distorting basses and drums to maximizing mix buses and warming up mixes.
Clipping style limiter: from transparent sounding compression to hard-clipping distortion
Controls for Clip Shape (hard to soft) and harmonics (even- and odd-order), so you can be in control of the sound
Low CPU usage for running multiple instances on multiple tracks
Standard LVC-Audio metering, including VU-style, PPM-style, and loudness meters to easily monitor input and output levels
Scalable waveform history view with click-and-drag editing of threshold controls to easily change and set clipping levels based on the incoming signal
3-band crossover (paid feature) control utilizing 4th order LR filters for flat crossover response
Independent frequency clipping (paid feature) to target the right frequencies for processing and selectable EQ gain controls that can be used pre-or post-processing
OS: Windows / Mac
---
10. FerricTDS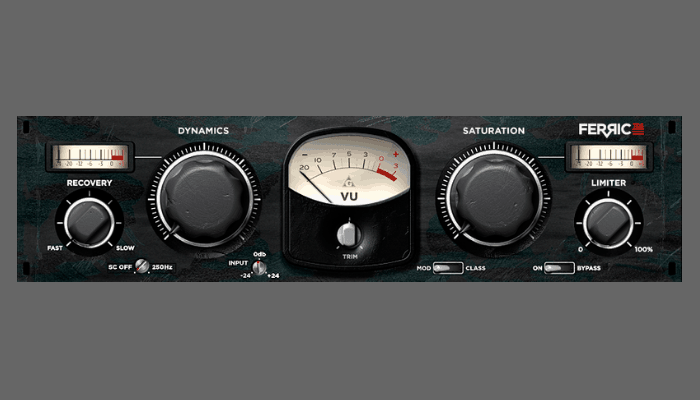 Inspired by the smooth dynamic shaping capabilities of some high-end reel-to-reel tape recorders, the Ferrics TDS tape dynamics simulator – simulates three of the most distinctive and much appreciated sonic effects generated by these devices: dynamics, saturation, limiting.
Performs gentle audio dynamic treatments.
Masters difficulty to handle audio material.
Adds extra harmonics and saturation effects.
Controls outgoing audio peaks.
OS: Windows / Mac
---
11. After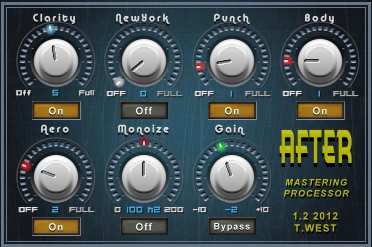 After is a mastering processor
Bypass.
Clarity effect.
Newyork compressor.
Punch & Body eq.
40K Aero enhancer.
Monoizer.
Output Gain.
OS: Windows
---
12. Bus Compressor
Bus Compressor is a stereo bus compressor.
OS: Windows
---
13. CS-12 Master Channel Strip
The mastering workhorse.
Bypass
In-output gain + reset
Pan + wide
Invert output
Left/right phase invert
Phase meter
12 Graphic bands
9 Q settings
Clipper + drive
Stereo doubler
Lowpass, Hipass
Punch mode
NY compressor (soft/hard)+ Knock
Tape saturator
ReLife recover (C)
Low-High Exciters
EQ 12-6 dB switch
Output 12-6 dB switch
22 presets
In-out meters + peak hold. Meters on/off
HQ engine – multicore support
OS: Windows
---
14. DeeSpeaker
DeeSpeaker simulates near-field speakers that are placed at an angle of 45 degrees to 1m destination with a headphone.
DeeSpeaker synthesizes the sound as it is generated from a real monitor speaking in a good setting, as well as the reflections sound in the studio, by advanced filter processing and phase processing.
OS: Windows / Mac
---
15. dpMeter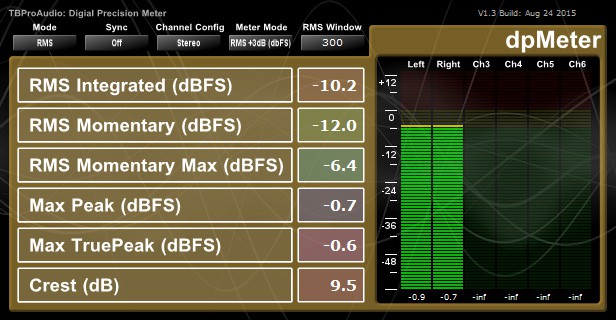 dpMeter is a precise digital audio multi-channel meter including RMS, EBUR128, and TruePeak (intersample) measurement.
Click-free 64-bit internal processing.
2 measurement modes: RMS/EBU R128.
Multi-channel metering: 2-6 RMS channels, 2.0 stereo, 4.0, 4.1, and 5.1 surround.
RMS: integrated, momentary, peak, and true peak.
EBU R128: integrated, momentary, short term, true pack, and loudness range.
True Peak measurement based on ITU 1770.
Continuous/synced measurement.
Record metering results as automation data.
Large and accurate live meters.
OS: Windows / Mac
---
16. easyLimiter

easyLimiter is a limiter designed for easy mastering.
Made based on our research in the field of wave attenuation of high peak that creates problems audition: rattles, crackling, distortions and other unwanted sounds.
Clear and smooth sound.
Big volume with no unwanted sounds.
Continuous sound and very close to the original line.
EXTREMELY low resources, UNIQUE in the area of audio limiters.
Look Ahead: detection of peaks are made before sound playing, this result a very little delay has no importance in the mastering process. This feature detects all peaks in time to can be limited.
Attack attenuation envelope. This feature makes continuous sound and very close to the original line.
Release attenuation envelope. This feature improves the continuous line of the sound.
The Stereo link combines attenuation with stereo balance.
Left and right attenuation with memory storing.
OS: Windows / Mac
---
17. TDR VOS SlickEQ

TDR VOS SlickEQ is a mixing/mastering equalizer designed for ease of use, musical flexibility, and impeccable sound. 
Three (and a half) filter bands arranged in a classic Low/Mid/High semi-parametric layout offer fast and intuitive access to four distinct EQ modes, each representing a set of distinct EQ curves and behaviors.
An elaborate auto gain option automatically compensates for changes of perceived loudness during EQ operation. Optionally, SlickEQ allows to exclusively process either the stereo sum or stereo difference (i.e. "stereo width") without additional sum/difference encoding. 
In order to warm up the material with additional harmonic content, SlickEQ offers a switchable EQ non-linearity and an output stage with 4 different saturation models.
These options are meant to offer subtle and interesting textures, rather than obvious distortion. The effect is made to add the typical "mojo" often associated with classy audio gear.
Intuitive, yet flexible semi parametric EQ layout
Modern user interface with outstanding usability and ergonomics
Carefully designed 64bit "delta" multi-rate structure
Three EQ bands with an additional 18dB/Oct high-pass filter
Four distinct EQ models: "American", "British", "German" and "Soviet" with optional non-linearity
Five output stages: "Linear", "Silky", "Mellow", "Deep" and "Toasted"
Advanced saturation algorithms by VoS ("Stateful saturation")
Highly effective and musically pleasing loudness compensated auto gain control
Stereo and sum/difference processing options
Tool-bar with undo/redo, A/B, advanced preset management, and more
OS: Windows / Mac
---
18. HPL2
HPL2 is a professional binaural conversion technology HPL used by some Japanese labels that produce high-quality high-resolution music when producing a sound source version for headphones By using this HPL2 Processor plug-in, you will be able to listen to the same mix-balanced sound as you listen to a 2-ch stereo sound source with a speaker, even with headphones or earphones. 
Originally the music sound source is made to be comfortable for the speaker. Realizing with the headphones and the earphone without breaking the mix balance is very important to obtain the original sound.
It is not an effector that adds something and makes it pleasant. It plays original good sound correctly even with headphones and earphones.
OS: Windows / Mac
---
19. Instant
Instant is a pre-mastering processor.
Bypass.
One knob Pre Master effect.
Tone Dial.
Output Gain Dial.
OS: Windows / Mac
---
20. KlipFreak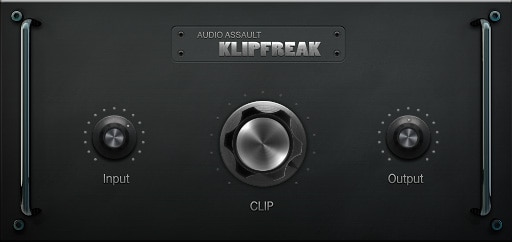 KlipFreak is a peak clipper.
OS: Windows / Mac
---
21. MHORSE P3 mkII
MHORSE P3 is a parallel mastering processor.
Full Bypass
EQ Bypass
In/Output -3dB option
3 parallel parametric (serial) equalizers
6 Q wide settings per band
4 freq. for low, mid, high
Boost/cut option per band
Peak/LoShelf – Peak/HiShelf
Loudness boost filter
Combined Par/Ser EQ option (post ser)
Special filters: Mellow, Punch, Body, and Shine (39K) modes
MS Parallel Clarity processor
NY Solo, link/unlink channels, Motown & Aural enhancer
3 bands Parallel Tape Saturator
DC remover
MS Parallel Stereo Widener without loss off-center (3 modes)
CrossTalk emulator (2 modes: Vintage, Modern)
Low / High Exciters
Unique Deharsh processor with Stereo/Mid/Side modes.
Old style VU meters (-60dB~+6dB)
VU lights on/off animation
Pan peak/correlation and Source material detector meters
Input/output 3-color peak leads
3-color i/o headroom leads for low, mid, high
Effects energy/compress meters
Parallel/Serial switch
Tooltips.
OS: Windows
---
What's Your Favorite Mastering VST Plugin?
I hope you enjoy these free Mastering VST plugins.
Please share this article and check out more Free VST Plugins.