Here are the Best Free Phaser VST Plugins online that can be used with FL Studio, Reason, Ableton Live, and other VST supported software.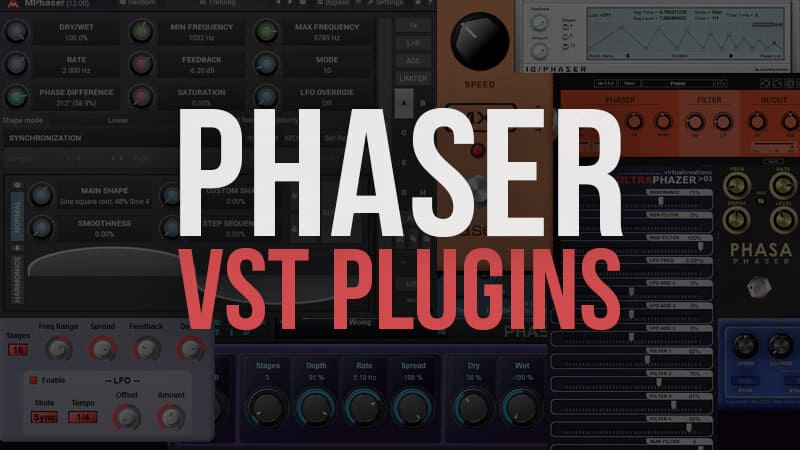 Tutorial: How to Install VST Plugins
Best Free Phaser VST Plugins
Instructions: Click each link below and look around each website for the download link or button. Do not install any suspicious software.
1. Blue Cat's Phaser
Modeled after vintage analog phaser circuits, Blue Cat's Phaser reproduces this old vintage phasing effect that you can find on so many recordings, but with the precision of modern digital processing techniques.
Multi-stage analog-style phaser effect.
Up to 32 phasing stages.
Stereo spread control.
Sine or triangle LFO shapes.
In or out of phase feed forward and feedback paths.
OS: Windows / Mac
---
2. Kjaerhus Audio Classic Phaser

The Classic Phaser emulates analog phasers from the 70s and 80s. These vintage phasers got their characteristic sound from the analog phase shifting filters used, unlike the delay lines used in most modern digital phasers.
Filter stages: 4 to 12
Phase shift area: 50Hz to 20kHz
Modulation Rate: 0.1 – 10 Hz
Modulation Depth: 0 – 100 %
OS: Windows
---
3. Virtual Creations UltraPhazer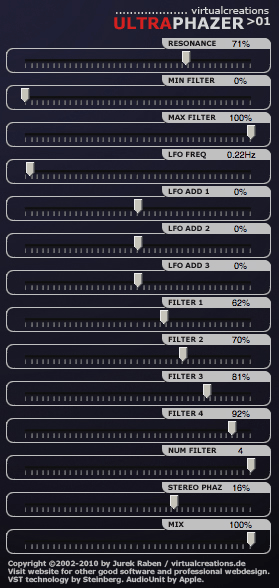 Ultra Phazer is a multi oscillated phaser plugin for Windows and OS X hosts. It sounds very cool on guitar tracks and on raw saw sound.
But also a very subtle phaser effect can be generated with this plugin. It can also be used as a stereo enhancer and auto panner.
OS: Windows / Mac
---
---
4. TAL-Phaser Effect

TAL-Phaser is a carefully modeled stereo phaser effect. The user can choose between two, four, and six stages. It's possible to adjust the lowest and highest frequency of the filter.
Two, four, and six stages
Syncable LFO
Lowest- and highest-frequency adjustable
Stereo phase offset from 0 to 180 degree
Feedback (a very small amount of second-order distortion in the feedback path)
OS: Windows, Mac
---
5. Melda Production MPhaser
MPhaser is an advanced phasing effect plugin with a simple and easy-to-use interface. It provides an adjustable oscillator shape allowing greater flexibility, up to 100 filters, saturation, and some other advanced features giving it a unique character.
OS: Windows, Mac
---
6. Killapluggies Phasa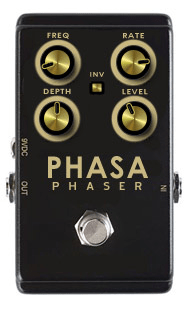 Phasa is a simple phaser effect stomp.
Frequency
Rate
Depth
Level.
Invert signal button
OS: Windows
---
7. HY-Plugins HY-Phaser

HY-Phaser is a phaser effect. Some parameters can be modulated by an envelope follower.
Midi learn
Randomize/clear button
Preset Manager
Re-Sizable UI
OS: Windows / Mac
---
8. D-Charged Phase 90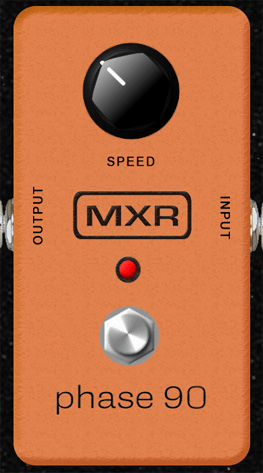 Phase 90 is a vintage phaser emulation. This emulation is based on the famous MXR Phase 90 stomp phaser.
OS: Windows
---
9. Mastrcode Music T-Force Phaser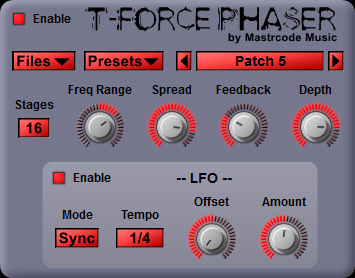 T-Force Phaser adds phase cancellations as a creative effect to your sounds. It results in a sound with a spacey feeling.
Phase cancellation up to 16 stages
Frequency range control
Spread control
Feedback amount control
Depth control
OS: Windows
---
10. B Serrano IO Phaser

I/O Phaser is a stereo phaser. This effect is driven by a sophisticated GUI envelope. The default time value is in second.
4, 8, or 12 stages.
Advanced GUI envelope up to 32 stages.
Loopable or 1 shot.
Host-Bpm syncable.
Individual curve-type for each segment.
High precision editing.
OS: Windows
---
11. MB-Plugins Phaz-Zoar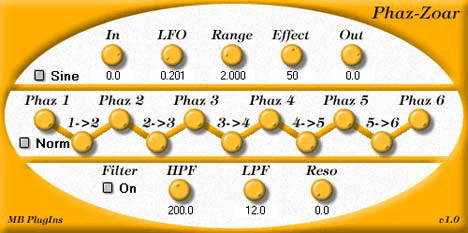 Phaz-Zoar is a 6-stage phaser with an adjustable amount for each stage. The amount of each stage fed into the next stage can also be adjusted.
LFO can be changed in frequency, waveform (sine, triangle, saw, and ramp), and range (in ms). Filters affect the phase signal to modify the phasing sound.
OS: Windows
---
FAQs
What is a Phaser VST Plugin?
Phaser VST Plugins can be used to add phaser effects to your sound in a VST host. It is an effect in which two opposing audio signals are mixed together. A phaser is a type of effects unit that further modifies the sound of an audio signal. It is often used with a synthesizer to create the classic phaser sweep effect.
A phaser changes the frequency of the audio signal. The frequencies are mixed depending on the settings that have been made in the plugin, for example, 'Mode' and 'Rate' controls. There are four different modes available: Sine, Square, Sawtooth, and Triangle.
These plugins can be used for various purposes such as adding a phaser effect to make a sound seem distant or adding it to vocals in order to make them sound more ethereal and atmospheric.
How Does a Phaser Effect Work?
A phaser filters out some of the frequencies of an audio signal, making it sound like it has been mixed with a "swooshing" sound. The original frequencies are still there but are mixed with the "sweeping" sound to make it appear as though they are being played in stereo.
---
I hope you enjoy these free phaser VST plugins.
Please share this article and check out more Free VST Plugins.