Here are the best Free Synth VST Plugins online. These Synthesizer VSTs can be used with FL Studio, Reason, Ableton Live, and other VST supported software.
Instructions: Click each link below and look around each website for the download link or button. Do not install any suspicious software.
Tutorial: How to Install VST Plugins
Best Free Synth VST Plugins
1. Anti-Transpirant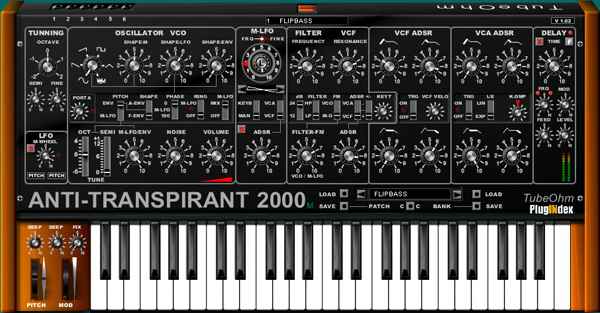 Anti-Transpirant is a wonderful analog-sounding synth VST Instrument for Windows.
---
2. OP-X Synth VST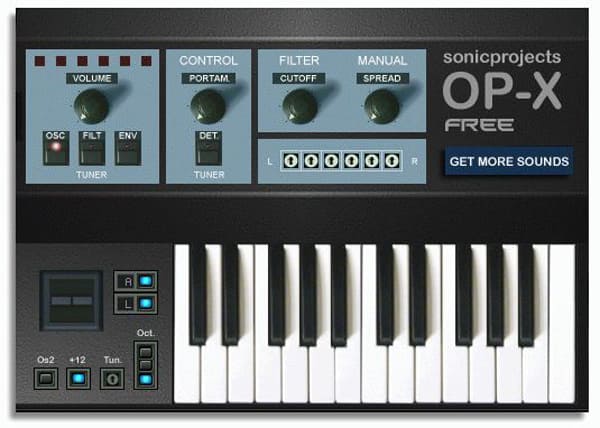 The OP-X Free has got the same basic engine and sound as the full OP-X while the available presets are limited to a few chosen ones and the GUI only gives access to a few parameters.
OS: Windows
---
3. Synth1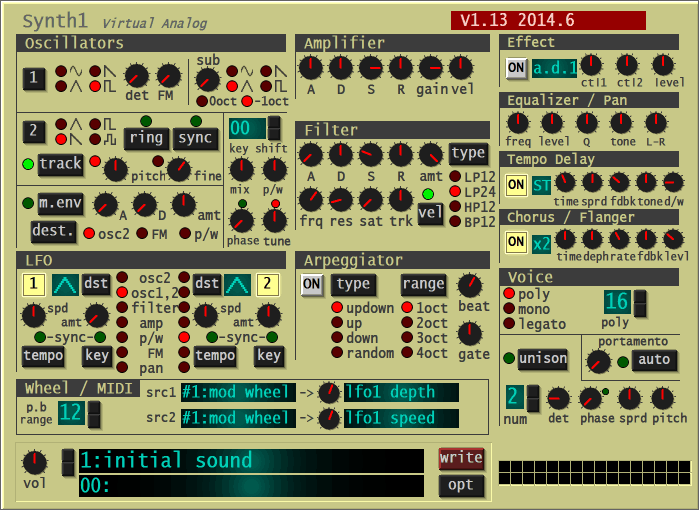 Synth1 is a software synthesizer. Functionally it is modeled on the Clavia Nord Lead 2 Red Synth.
Important: The website is in a different language.  But this plugin has a lot of synth sounds. Video: Synth1 VST – Over 25,000+ Sound Presets
2 Oscillators, FM modulation, ring modulation, sync, modulation envelope
4 types of filters, distortion
2 LFOs (synchronized with host)
Arpeggiator (synchronized with host)
Tempo delay (synchronized with host), stereo chorus/flanger
Legato mode, portamento
16 notes polyphony
128 presets
Thoroughly optimized for light CPU load using SSE instructions, etc
Automation
OS: Windows
---
4. Poly 2106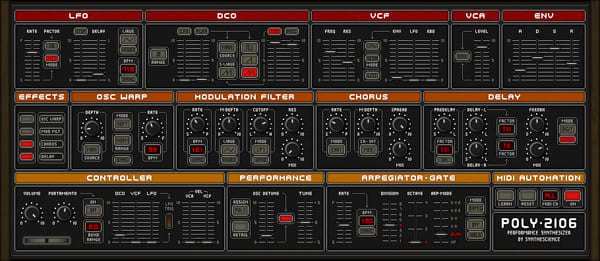 The Poly 2106 initially started off as a recreation of a true object of desire from the fashionable '80s that was once part of our studio, but that was just the initial kick that propelled a seemingly more enthusiastic project which culminated into a knob infested creation with a solid vintage backbone.
OS: Windows
---
5. Osiris 6

6 voices polyphonic synthesizer.
---
6. Beat Black Mamba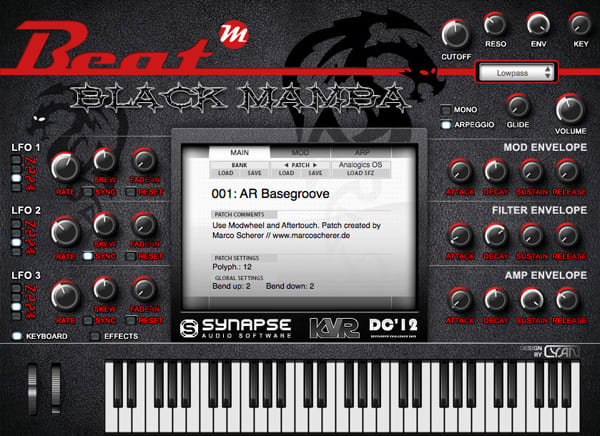 Beat Black Mamba is a powerful bass library. It's based on the Beat Zampler, developed by Synapse Audio for Beat magazine, and thus can load sfz files. Design by Cyan. This plugin is one of the more popular free synth VST plugins.
---
7. Commodore 64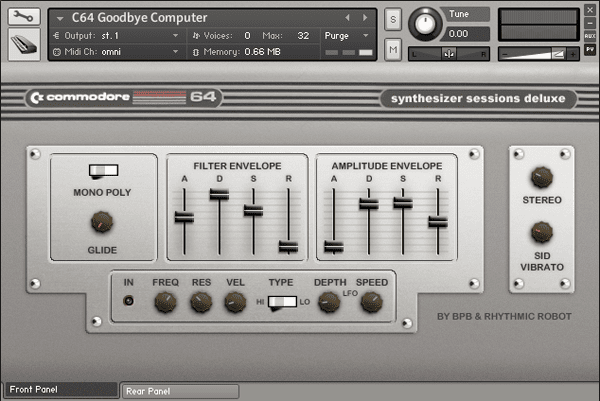 Commodore 64 Synthesizer Sessions DELUXE is a collection of multi-sampled sounds captured directly from 3 different versions of the Commodore 64 home computer. It is a collaborative project between Bedroom Producers Blog and Rhythmic Robot.
---
8. Trans Computer Maschine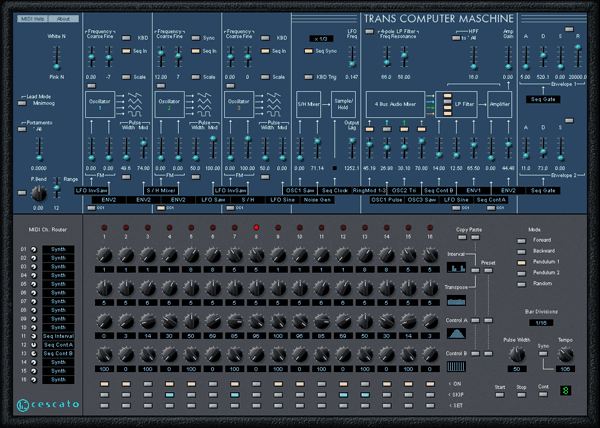 Trans Computer Maschine is a semi-modular Vintage Lead Synthesizer + Pattern Sequencer. Modeled after two legendary mono synths and a custom analog sequencer from Germany.
---
9. HYDi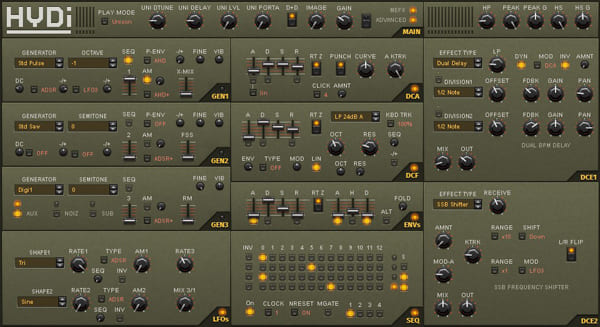 Originally developed for DC'12, this is a heavily revamped model – simply called Version 1.3. HYDi can only be described as one thing – Quirky. Like a pre-patched modular, perfect for tweakheads, the modulation section is integrated into most of the effects.
---
10. SIXPACK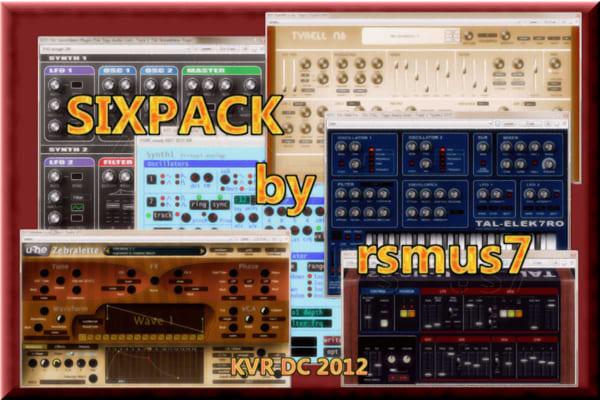 This is a bundle of over 300 presets for 6 superb freeware synthesizer plugins: Zebralette, Tyrell N6 v2, Synth1, Tal Noisemaker, TAL elek7ro, and TAL u-no 62.
---
11. Matrix 8000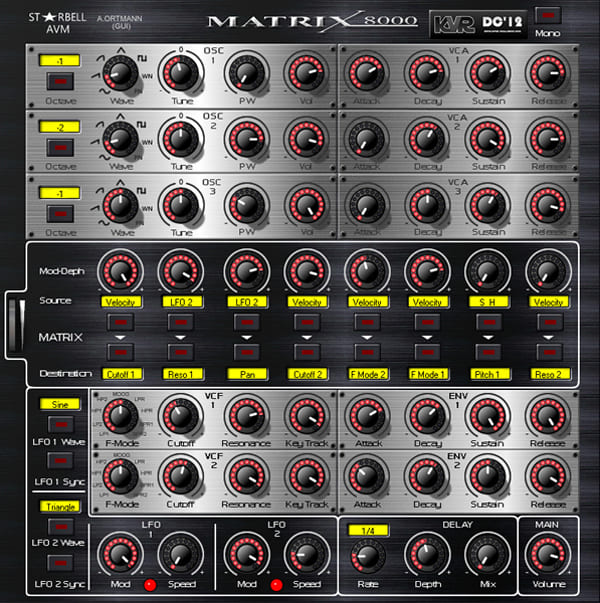 3 OSC with 7 Waves, Octave Tuning, Fine Tuning, PW, 3 VCA Envelopes.
---
12. Hydra PL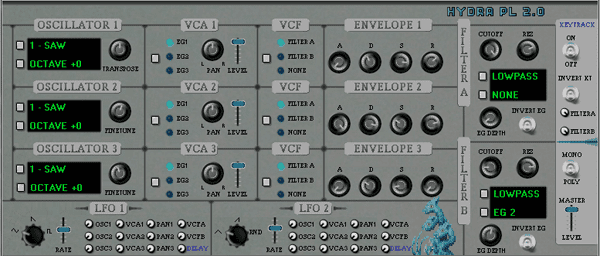 Hydra PL is a digital/analog hybrid-style polyphonic synthesizer. Hydra was made to be versatile, but with a focus on gritty pads and other polyphonic patches. It presents a vintage "knob-per-function" style GUI.
---
13. Kx-PolyMod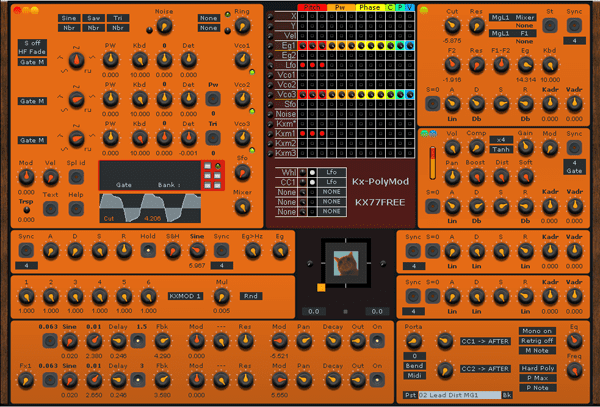 Modular polyphonic synthesizer with stereo SF2 player. To build vintage leads or analog multi-purpose polyphonic instruments.
---
14. Sucker Analog Synth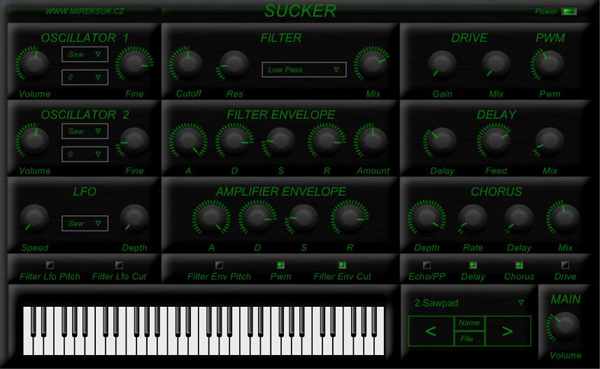 Sucker is a 2 oscillators synth.
---
15. TAL-NoiseMaker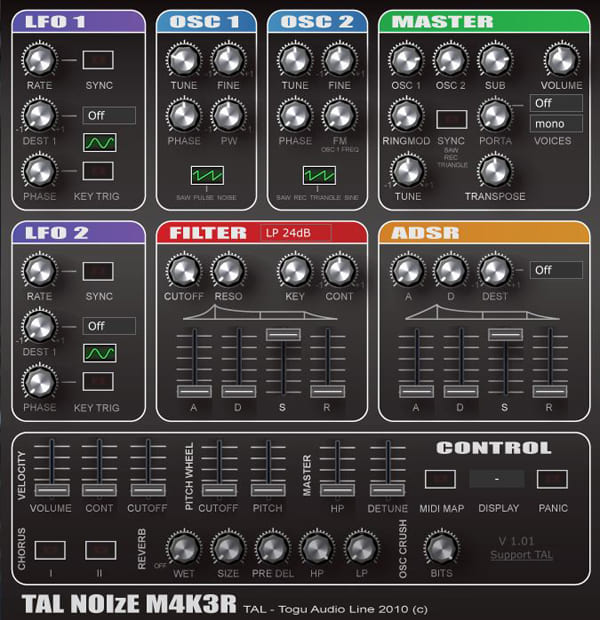 TAL-NoiseMaker is an improved version of TAL-Elek7ro and has a completely new synth engine and a lot of improvements in sound and usability.
The synth also includes a small effect section with a reverb, chorus, and a simple bit crusher effect.
---
16. Sun Ra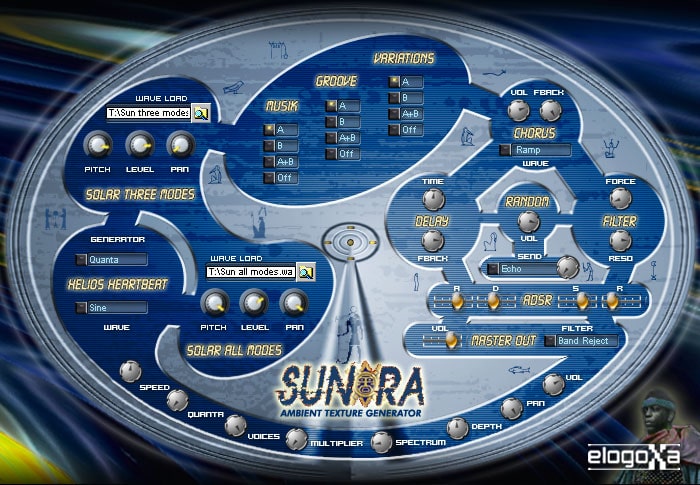 Ambient texture generator. It's based on a dual synthesis engine, completed with several randomization options and a battery of built-in effects. It also features a good set of 24 presets.
---
17. Satyr VA Synth
Satyr is a massive Virtual Analog synth with comprehensive oscillator waveshaping and modulation methods.
OS: Windows
---
18. Oberon Poly 4 VA Synth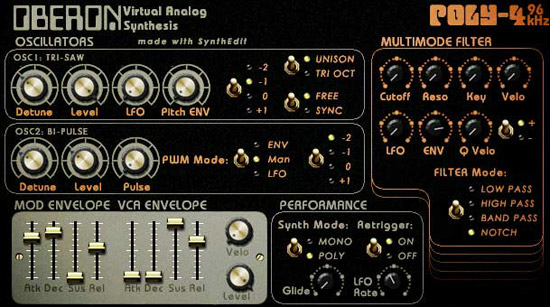 Oberon is an attempt to imitate the classic analog polysynths. It has two special oscillators with sync, two envelopes, LFO, and a special 2-pole double filter.
---
19. Panzertank PM 4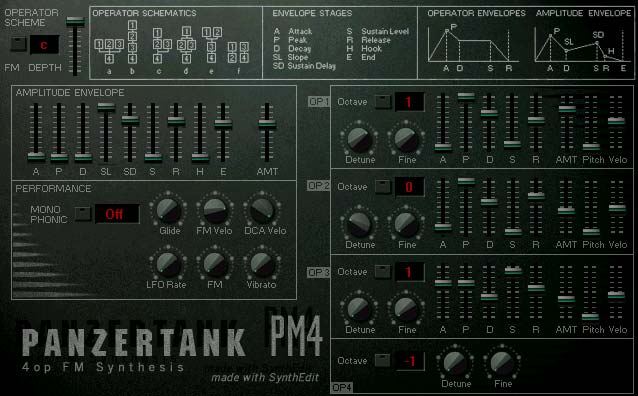 Panzertank PM4 is a virtual phase modulation synth very much like the famous FM synthesizers.
---
20. Superwave P8
Superware is a virtual analog synthesizer emulation for VST host.
---
21. Fortune Cookie VST
Fortune Cookie 2012 is a quite unique 'VA' synth (VSTi plugin) for various types of solo and more or less typical polysynth and strange FX sounds. It gains special uniqueness from its different sync modes and X-Torsion.
---
22. Analog Warfare VST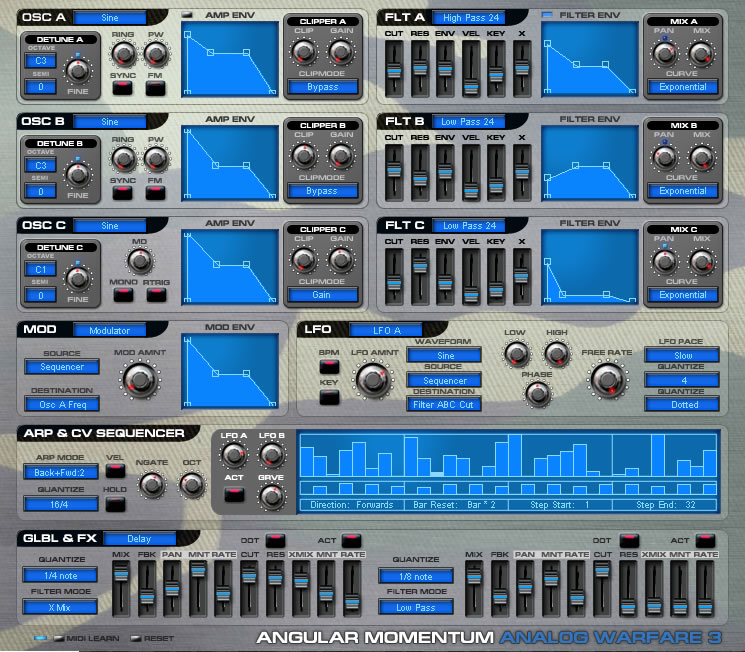 Hybrid analog-style synthesizer with groove and CV sequencer, arpeggiator, FX, and a heap of routing options.
---
23. Minisynth Series VST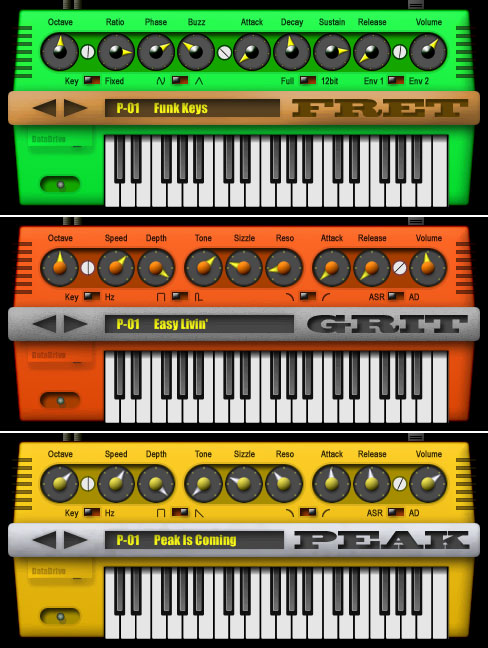 The Minisynth series collection consists of three instruments: FRET, GRIT, and PEAK. As an overall concept, Acrobatics simplified controls and packed implementations to the highest grade to push up user's creativity first and give steady look and maximum usability to the three polyphonic synthesizers.
---
24. Podolski VST
Podolski is a simple, CPU-efficient virtual analog synthesizer. Basically a cut-down version of FilterscapeVA with just one oscillator, one filter, one envelope, and two LFOs, it also features a Zebra-style arpeggiator/sequencer plus chorus and delay effects.
---
25. Cellofan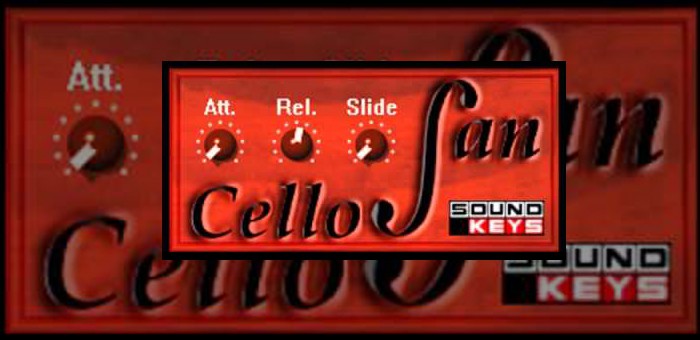 Cellofan is a classical cello vst plug-in.
---
26. Wavedraw VST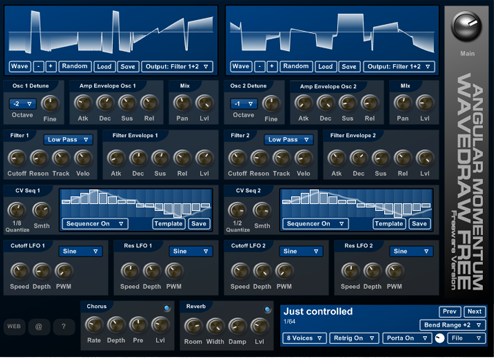 Wavetable Synthesizer that allows you to draw your own waves.
---
27. Kamioooka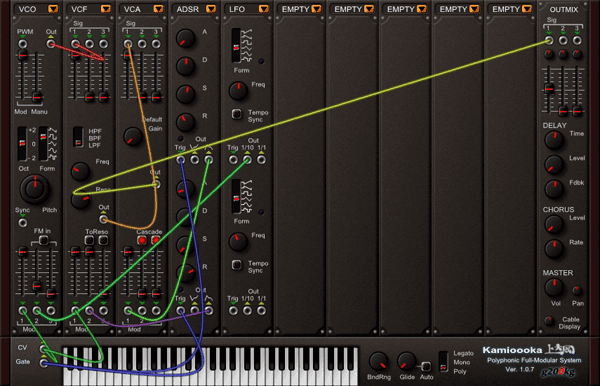 Kamioooka is a polyphonic Full-Modular synthesizer with a patch cable system. You can freely combine modules and make patches. 10 module slots and 7 types of modules are available.
---
28. PG-8X
The PG-8X 2.0 is a virtual analog synthesizer but with the standard 2-DCO – 24dB/oct filter design.
Up to 12 voice polyphony
Two DCO's with Saw, Square, Pulse, Noise
Hard Sync and Ring Modulation
Two exponential envelop generators
24 dB resonant LP filter
HP filter (3 stages)
Stereo Chorus
Import and Export of JX-8P Sysex data
---
29. Lokomotiv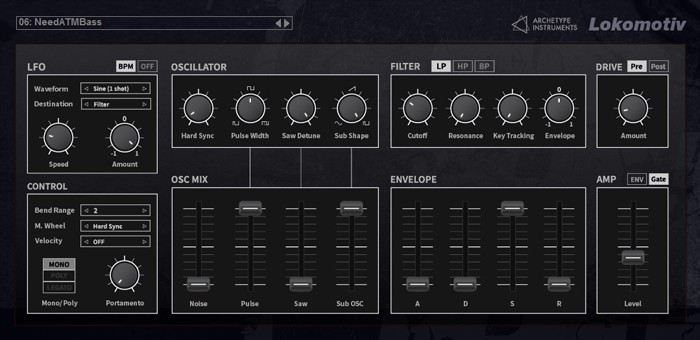 Lokomotiv is a software synthesizer for both Windows and Mac. It is designed to make your sounds more powerful and also create a wide range of sounds way easier.
Mathematically generated high definition Oscillator, but without using wavetable or interpolation.
Silky smooth 9 X detuned sawtooth wave.
Pulse wave with self PWM.
Shape morphing sub oscillator.
---
30. Kairatune
Kairatune is designed to produce crisp and tight electric sounds for electronic music production. It's designed and engineered to be as powerful and versatile as possible in its target role as your source for tight bass.
It has unique lead and shiny SFX sounds, but most importantly it also makes all the effort to be simple enough to use, enabling you to add your personal touch and flavor to the sound and seek the perfect fit to your mixing preferences.
---
31. Tunefish4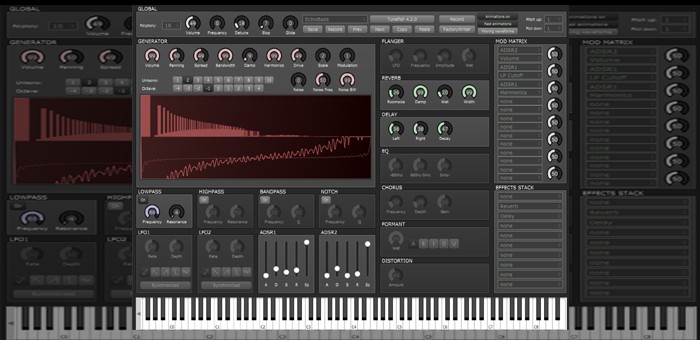 Tunefish4 is a very tiny virtual analog synthesizer, but more importantly, it is developed to fit into about 10kb of compressed machine code while still producing an audio quality that can compete with commercial synthesizers.
This is one of the popular free synth VST plugins.
OS: Windows / Mac
---
32. Helix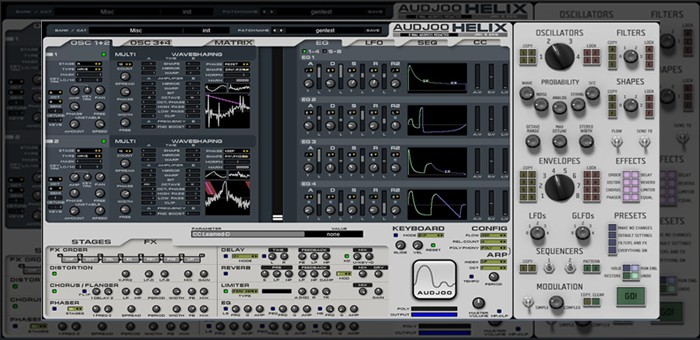 Helix is a unique synthesizer plugin, but with a sonic clarity beyond the competition, producing soaring leads, solid basses, and glimmering pads, but the main oscillators of Helix allow you to pick from hundreds of included waveforms, or load your own.
The waveform can be further bent and warped by two sets of controls, A and B.
OS: Windows / Mac
---
33. Sinnah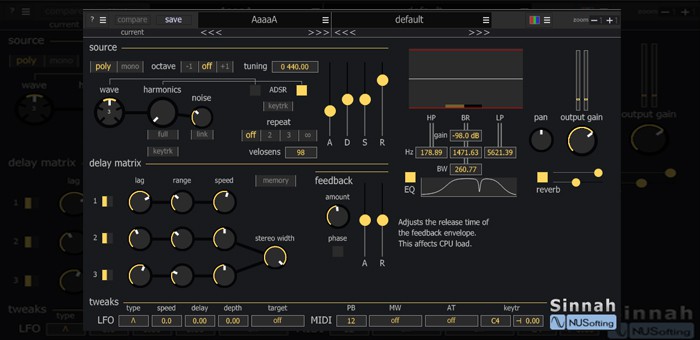 Sinnah is a synth based on a single complex oscillator that includes five waveshapes, but with an increasingly spectral complexity, harmonics level for all waveshapes, noise level, and a delay matrix. It also features a subtractive stereo filter to carve the spectrum of the sound, similar to an equalizer.
The band rejects filter also features gain and bandwidth controls. It has three filters: high pass, low pass, and band-reject (notch).
OS: Windows / Mac
---
34. Digits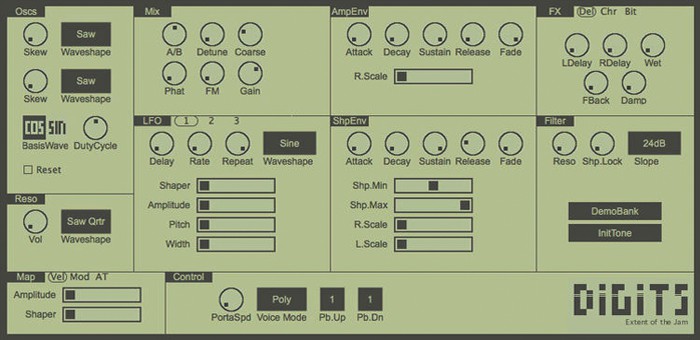 Digits is a phase distortion synthesizer inspired by Casio's CZ series, but also takes that form of synthesis to the limit.
Create warm pads, glitchy sounds, dirty basses, filthy sweeps, screaming leads, and anything in-between, but the interface is minimal and designed to enable the user to create sounds from scratch in record time, but if you're too busy for that, don't fret, because it comes with over 70 presets that run the gamut from pads to stabs, leads, and basses.
OS: Windows / Mac
---
35. Sonigen Modular
Sonigen Modular is a modular software synthesizer that combines the freedom and flexibility of classic modular synthesis with the benefits of modern software implementation.
Fully modular, with many modules and patch cables, so you can do as you want.
It combines polyphonic voice and static effect processing in one window, So that means you can have multiple MIDI notes playing multiple voices, mix them all down to a single stereo stream, and route that through a modular effect chain.
OS: Windows
---
36. RMPx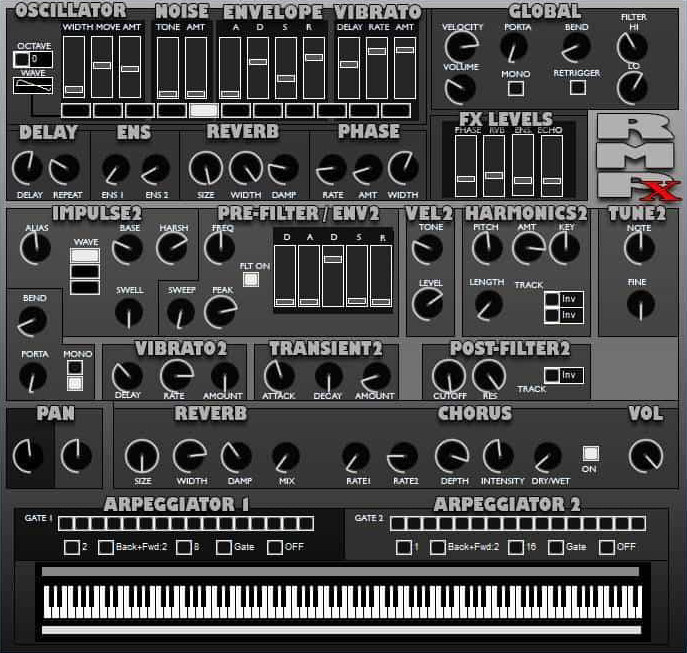 RMPx – is a hybrid Physical Modelling and ensemble synth, therefore it has great sound and is very inspiring, but the Phys-mod section especially enjoys being played with a touch-sensitive keyboard and can conjure up very acoustic-sounding patches which respond to your playing style beautifully.
Note that the demo below is played using just a single instance of the instrument.
OS: Windows
---
37. SubDuer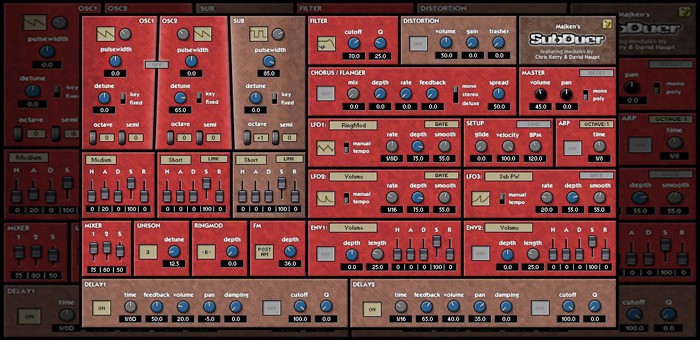 SubDuer is a triple oscillator subtractive synth, aimed at versatility, but has low CPU usage. It can do basic unison, ring-mod, and FM sounds and comes with built-in distortion, chorus/flanger, and delay.
OS: Windows
---
38. Alpha 3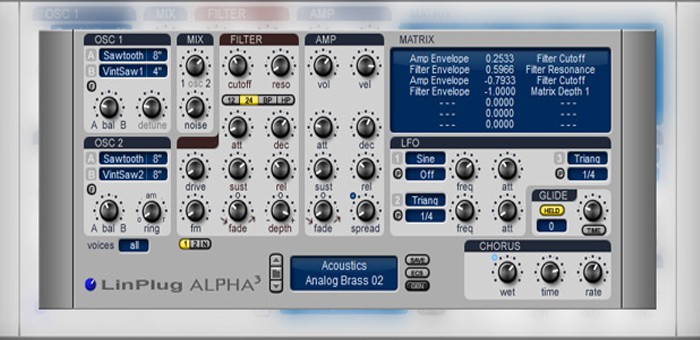 LinPlug Virtual Instruments: Alpha 3 is the small brother of Alpha, but shares the same engine and has fewer features.
It's been around since mid-2000, therefore it is free of charge. It also comes with a couple of presets to get you started and the manual of the full Alpha which covers Alpha 3 too.
However, the roots of LinPlug date back to the beginning of computer music, back in 1985 when the first affordable computers started up. The first work of LinPlug founder, Peter Linsener, was a MIDI-Sequencer written in Z80 assembler for the Sinclair Spectrum computer with whopping 48 kb Memory.
OS: Windows / Mac
---
39. Rez 3.0
Rez: A basic synth, but it is capable of a very wide range of sounds, so as a result, it inspires creativity.
It's made from multiple chained filters that act as a single powerful filter and it's highly resonant, providing Rez with its distinctive character.
Top that off with distortion, a phaser, various oscillator modulations, delay, and a killer programmable arp + step sequencer, and you've got a powerhouse of a synth in a very small package.
OS: Windows / Mac
---
40. GTG PD9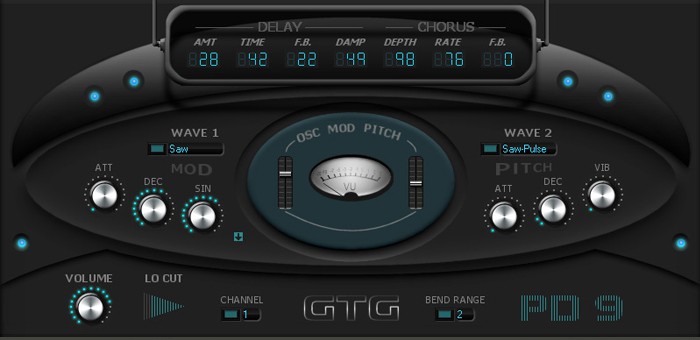 GTG PD9 is a phase distortion synthesizer, it is also dedicated to bass and lead sounds.
Two inter-modulating oscillators.
Pitch-mod.
Sub-Osc.
Delay, chorus, eq
OS: Windows
---
Create a Music Business
Create a professional website to sell beats, products, and music. Offer music services. View Features »
---
We hope you enjoy these free Synth VST plugins.
Please share this article and check out more Free VST Plugins.